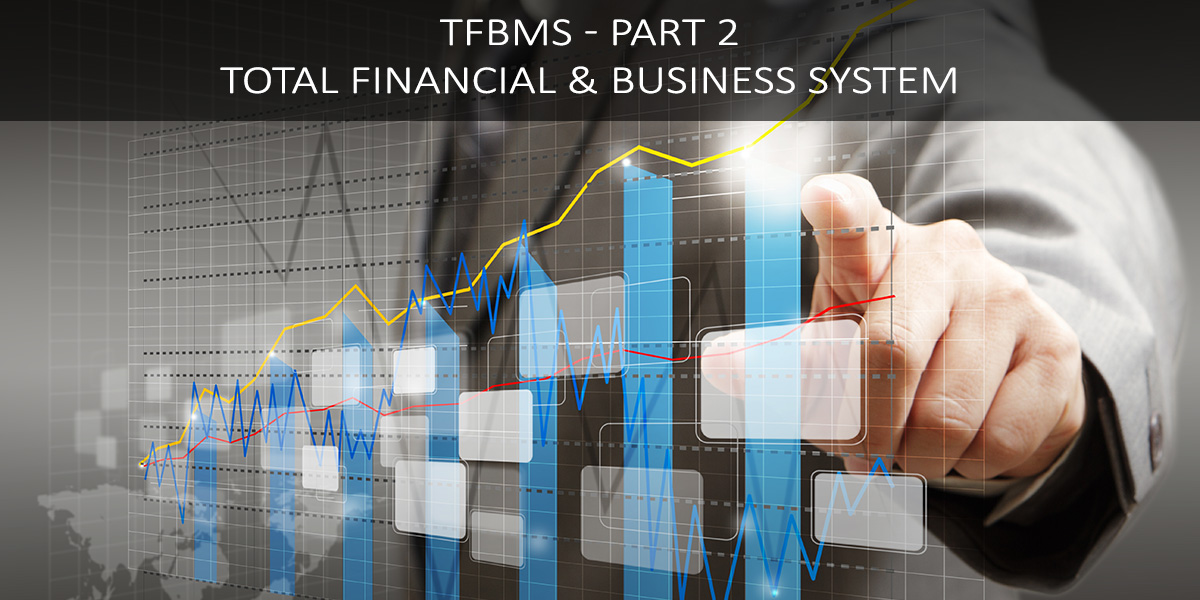 Total Financial, Business & Marketing System
Go to IndexBy Nick Ray Ball 19th August 2016
Welcome to the TFBMS, part software design, part operations manual.
Presented in three parts:
Part 1: The TMS (Total Marketing System)
Part 2: The TFBS (Total Financial and Business System)
Part 3: The PQS (Predictive Quantum Software)
Part two of the TFBMS looks at software that will greatly improve efficiency in… business, financial systems, CRM systems (Consumer Relationship Management), inventory systems, distribution systems, property management systems… In fact, just about any system one could possibly need and when the need arises or is imagined for another component we can simply add it to the list.
The creation of the TFBS as one integrated system could not be achieved without the guidance of systems designer Nick Ray Ball. However, most systems (except the financial components) are available as stand-alone software that can be purchased from various vendors. Which Vineeth our senior Zend certified PHP programmer could set up as individual components with the aid of the four hour set of videos we called 'The Divergent CRM.' (Note Vineeth's salary for 1 year, and a second Zend certified programmer and Piyush our HTML5 designer is included within the initial set up cost.)
However, an integrated system has been the desire of Nick Ray Ball since 2011, particularly the financial integration into the system as a whole. Not creating various or different components to provide different answers/solutions but rather one all-powerful system in which each component dovetail with all the others.
Index
1. Financial System Pt 1 Data Entry (0.5% to 25%)

To avoid human error &/or fraud since the original SIENNA software plan in 2011, the software has been specified to capture financial data from the bank. Not from an admin or financial staff member copying data from the bank to a financial system or spreadsheet.

Banking API's (connections from a banks system to ours) are becoming more readily available and cheaper in the UK. However, we are not starting in the UK and we need to make our system connectable to any bank in the world, we are creating a simple bank CVS spreadsheet download and upload system.

In short any staff member with access to the banks website can download a CVS spreadsheet. And we also ask that they take a screenshot of the banks online page that includes the running balance (for added security). The spreadsheet and screenshot are then simply uploaded into the TFBMS, the running balance is entered and the data is in the system.

The one problem we have is when two payments for exactly the same amount, with the same reference are made on the same day. In which case the running balance will be incorrect and one must look for the duplicate payments or debits and add them manually. However, this event would not occur often.

There is a slight time saving cost to this method, however the advantages of a system that is free or data capture errors and is very difficult to de fraud is priceless.

2. Financial System Part 2. Data Sorting (0.5%)

Once the data has been fed into the TFBMS and the running balance is seen to be correct, that data is sorted into sections and sub sections. For all transactions that have a specific recipient code or name such as 'Caitlin Salary' or if a villa payment with a reference number such as '#2613,'the receipts and payments will automatically be assigned to the correct section. And in the case of income from clients, the system will create a message to make a payment to the owner.

There will always be a degree of human sorting, credit card payments for instance. However, with most data being auto sorted, the list of available matching payments to choose from will be small and easily managed. The system will try to exact match the amount and if it can't it will provide a list of potential matches, really making the banking child's play.

This system is designed to work for every single transaction, making the entire business banking process simple and extremely efficient.

3. Financial System part 3. Data Reporting (0.5% to 1%)

With all the banking data now placed into the correct categories and sub categories along with required fees presented for payment, updated 3 times or more each week, the system comes into its own when it comes to reporting.

An accurate report of debits and credits presented as management accounts is essential in business when it comes to making spending and hiring decisions.
This so the CEO and management can clearly see the profitability (or not) of the company.

In addition, in business transactions where payments are not uniform, payment may be in full or a deposited amount, and in the case of some booking channels like Airbnb bookings are paid in arrears. The TFBMS will provide the all-important 'stand still' figure, (if all credits are received and all payments made, what is the balance?)

To further assist, using past data, the TFBMS will also provide reports that compensate for seasonal trends.

In addition is the ability to provide up to date financial reports to clients as soon as their payment hits the system, or is paid to the villa owner, or a concierge payment is made it will update the clients CMS (Content Management System), which will eventually update the VS mobile APP.

Whilst it's not currently a must for all Villa Secrets Network companies websites, Villa Secrets itself (in part just because it can) will be reporting all its financial results in real time on its websites for all to see and evaluate. This in part is in replacement for financial bonding (financial failure insurance). To this we say it's better to know a company is in good health than be offered a refund for the villa portion of the holiday if a company fails.

4. Financial System part 4. Sales Funnel and Enquiry Stats (1% to 15%)

The CEO and management will be able to see a very real picture of how one is doing in a month. Judged not only on income received but by how each sales agent is doing. One also has a very good indication of the value of enquires and each sales person's enquiry VS closer ratio. Drilling down deeper one can assess which agents perform best with which enquiries and better order the allocation of enquiries based on such data.

This point is greatly expanded upon by 'The PQS' Predictive Quantum Software

5. Financial System part 5. Auditing and Tax (1% to 3%)

Once one has the organised data, the final part of the system is to correctly present and pay taxes, and be ready for an Audit if necessary. Each country has different tax and filing guidelines as well as rules which everyone should abide by. However, this is simply another set of rules to add to the system. It's simply reporting in a specific format.

6. The CRM (Consumer Relationship Management) (10% to 30%)

The CRM is the glue that holds everything together.

Unlike traditional CRM's we are creating 'The Divergent CRM,' where the CRM is the common connection and user interphase that connects everything to everything See over 4 hours of video on this point.

However note that now we are looking not at integrating with an existing CRM rather creating our own. Which is better for a number of reasons not least the integration to the financial software. But also we wish our CRM to be an email client, used in place of a standard email. This may take a bit of getting used to but it will be worth it.

The CRM will assist the sales person with reminders and auto actions based on enquiry. Such as that of choosing the right way to send newsletters.

Like a dog with a bone it will never let a client leave until it concludes a booking or has been informed why a booking was not made. This is in part a security measure to make sure agents do not do 'outside deals' (for instance, booking a client into an owner's villa and take the commission directly).

The CRM will also create the main interface used for all other parts of the software and will be instrumental in remarketing.

7. Enquiry Systems (10% to 25%)

The enquiry system is initially created for bespoke villas (villas that do not present availability and pricing via an online system). Currently when it comes to such villas a typical villa agent will contact just a few of the 100 plus options.

The enquiry system will automatically email all relevant bespoke villas asking its availability and if the price is correct. It includes a simple one click reply if the villa is available and the price is correct, or an option to change the price if it is incorrect.

As soon at the email is replied to, or the one click accept pressed the villa will be added to the sales agents CRM (sometimes before they have even opened the enquiry) it will also update the Clients CMS (detailed next).

For villa booking at oversubscribed times, such as trying to find a villa with availability at Christmas requested but a few months before, this system can double the chances of making a booking. And is a good way to communicate and impress villa owners and property managers

8. Clients CMS (Content Management Suite) (2.5% to 15%)

8. The Clients CMS is a system that the client can log into to see all dealings with company. Initially it will record a list of all the web pages visited, how many times each page has been looked at alongside any favourites a guest has picked and the details of the enquiry.

The system will keep a record of all emails sent to and from the agent, all concierge and hospitality requests and offer various suggestions about same. It will create an itinerary/holiday planner which they can add items to and it will display all pertinent financial data. It also becomes the mechanism for them to choose their guest gifts, welcome packs or order supplies.

Indeed everything a client could wish for will be accessible or reported in the Clients CMS, which can be printed out and acceded via their cell phones.

The Client CMS becomes a valuable remarketing tool

9. SIENNA BOT AI (5% to 25%)

The Sienna bot AI is all automated actions we can think of that can be created between the TFBMS and the client.

For example, if we skip back to the Enquiry System, the Sienna Bot will send an email to the client after the initial enquiry providing an answer on its availability.

It will present the highest ranked villas available from the online systems, informing the client that it has emailed a further 50 of so bespoke villas and will keep the client apprised of its results.

As each bespoke enquiry comes back it will add the villa to the clients CMS. And in the case of a high match villa it will directly email the clients about the villa and send a SMS, WhatsApp or whatever communication method the client has given. It will even be able to tweet it to the guest if we have their twitter id.

The Sienna bot can start negotiating prices if the agent desires. It does this by sending an email to all relevant owners asking if they would like to make a special offer.

It may be possible for the Sienna Bot AI to conclude a deal with a guest without human contact. And can be an invaluable asset to semi-sales staff who may be manning Live Chat, or the phones out of work hours.

10. Hospitality Systems (2.5% to 10%)

Good hospitality creates a peaceful life for staff, generates repeat business and really is the only way to run this kind of business.

So as an addition to the Clients CMS, a dedicated hospitality adaptation will be created. Villas that need to be visited prior to occupation, concierge requests, itineraries all organised within a master hospitality system in which staff are rostered and owners are apprised of their responsibilities.

11. Experience Africa CMS (5% to 35%)

Experience Africa CMS is designed initially to capture a wealth of information's about Safaris, private islands, boutique luxury hotels and resorts, alongside other services such as jets, yachts and luxury car hire. To a never before considered level of detail, for instance each safari will be encourage to tell us about every animal and the likelihood of seeing them. Information that can be used collectively for conservation purposes

A big part of the CMS is travel logistics and events. So for instance a Safari would have a number of other venues that are easy to get to as a part of a multi leg holiday and a list of activities such as ballooning.

The point of the Experience Africa CMS is to assist sales persons and travellers to create multi leg holidays with greater attention to details and logistics as is known by experience agents (as such agents, cannot possibly know the logistics for the 1,000 luxury venues found in Africa), let alone have a per safari guide on the likelihood of seeing one animal or another..

Given the above, companies can advertise multi leg trips on their websites and with a single 7 star 2-week trip generating more than ZAR 360,000 ($25,000) the capacity to create such trips becomes a useful side-line and upselling opportunity.

12. PMS & GDS Connections (10% to 40%)

PMS (Property management Systems) & GDS (Global Distribution System) connections are adding portfolios of villas or other accommodations to the website which offer on line booking to clients and a quick search for available villas for agents. We already connect to Razor/MyBookingPal which adds about 200 villas to the websites.

We have scheduled additional connections to the Nightsbridge booking system and a leading property management company that we hope to complete in early 2017. This gives online booking access to about another hundred villas and two hundred apartments.

The advantages of this are plain to see. However, this action has the possibility to really make a lot of extra money if by adverting for apartments on Google we create a good ROI.

In addition to the above mentioned we are talking to Kigo and HomeAway about access to their villa inventories and with Amadeus Hotels about creating a connecting to all African luxury hotels and a great many safaris. This connection will likely be created before 2018.

In general, if there is a PMS anywhere in the world that has luxury accommodations, in time we shall connect to it. This principle is another of the original 2011 SIENNA networking software component.

13. Villas Cloud Booking System (5% to 25%)

13. We created our first booking system in 2005 and it was part of the inspiration for the Razor/ByBookingPal system which was developed in Cape Town then sold to California which we now connect to (it's a funny old world)

Our version 2 system 'The Villas Cloud.' Is detailed in over 50 pages of works from Summer 2015. The Villas Cloud, (VillasCloud.com) is currently one of the first 8 companies in the Cape Town network. It has many bells and whistles and will be able display data from all the different PMS and GDS we connect to.

Whether we can get it to synchronise and offer an all-inclusive product for online bookings and affiliates is not completely clear, as different systems have different rules. In most cases, we would be interested in including the PMS owners within the S-World Villa Secrets network and in some cases consider buying systems outright. This chapter has a long way to go… and has a good payday for the company that buys into the Cape Town Villa Cloud licence.

What we do know is that we can create an internal booking product with great owner features, from single entry pricing (enter one price and the years pricing is automatically set) to a multitude of marketing options. Villas Cloud will combine with our villa owners and property manager CMS's and be very simple to use, with a super simplified version available for mobile.

14. Distribution channels (50% to 100% for mandates profit centre)

There are hundreds of distribution channels, Villa Secrets being one. The best known are Airbnb, Booking.com & HomeAway. We are in discussions with HomeAway about connecting the Villas Cloud to their system. So when Villas Cloud records an entry, most often an availability request, both are synchronized so Villas Cloud updates HomeAway. We will seek to do the same with AirBnb, Booking.com and just about every other channel.

There are products available that connects to many channels at a time. So it's realistic to suggest that by the end of 2017 Villas Cloud will be able to update most of the worlds systems.

Each distribution channel is another way to generate an enquiry and make a booking. Making mandates work triple as we would use the same villa name on channels as is used on each villas own website and stats show that many or even most clients try and Google the name of the villa to try and book direct

Distribution channels become a source of direct bookings and from each request a many different villas can be booked.

15. Property Managers CMS (2.5% to 10%)

The property managers CMS is built upon the standard Villa Secrets CMS, the enquiry system and info gained from the Sienna Bot. In general, displaying all relevant data in a simple way. Property Managers can add to their listing or add new listings easily without assistance.

In addition for qualifying property managers is a profile page that presents the property manager on our websites to villa owners who are looking for management. This is under the agreement that one or another of the villa secrets companies handles the marketing and bookings calendar.

The list of property managers available as recommended by Villa Secret alongside the PMS is another reason for villa owners to give Villa Secrets companies mandates. And this, in general, is a good way to communicate special rates from property managers to the network.

Property managers whose villa is exclusive to the network will have access to all the data from the distribution channels.

16. Villa Owners 'For Sale' CMS (2.5% to 25%)

The villa owners CMS has all the features of the Property Mangers CMS. But focuses in addition on the sale of the property, including data from the real estate companies in the network, such as what price similar villas were sold for and when.

Owners can see how a villa would be presented for sale and can adjust the printed brochures to their liking.

There are many initiatives and one is to allow production companies to lower rates for photo and stills shoots in exchange for them uploaded the media to the websites (photos, write up and video clips). All press is good press; however most good press is not capitalised on. The Owners CMS becomes a system for collating all good press.

The owners CMS is the tool for owners and agents to achieve the best price possible if the owner wishes to sell. Should a property be sold that is mandated to a non-real estate company within the network, they will receive a 25% referral fee. Which if at a commission of 4% on a villa that cost ZAR 25,000,000 ($1,850,000) would equal ZAR 250,000 ($18,500). And in addition will likely keep the rental mandate after sale.

17. Property Owner/Manager Websites (5% to 15%)

For owners of popular properties that get a lot of booking requests this is the concept of creating agency websites for them. Either creating an individual or multi user website, where the villa managers and owners can attempt to make bookings from requests they have had but cannot accommodate, as their villa was already booked. Or alternatively create a connection with a villa secrets company to deal with such requests.

This measure has proved popular with the owners of some of Cape Town top villas and Africa's private islands, where a single booking can be worth more than R300,000 ($22,500) in commission.

In general, if a villa owner or manager makes the booking they keep 75% of the commission and pay a 25% referral fee, or if the booking is handled by a Villa Secrets agency it's a 50/50.

Villa Secrets agencies are free to recruit such accommodations, and they receive the commission split.

18. Magic Menus (5% to 10%) (higher for companies who recruit more villas)

Magic menus is a system that is already over half complete, a highly sophisticated system that performs a number of tasks.

a. Makes the reordering of villas simple
b. Organises the various portfolios of villas
c. Creates an advanced XML sitemap which assists SEO
d. Connects to MOZ and increases the list position of villas that receive links, which further assists SEO (especially as we can tell owners that if they create links to their villas pages on our websites the villa will move up the list
e. Connects to Google Analytics and increases the list position of villas that receive a lot of page views, in three categories, daily, weekly and monthly.
f. Presents all new villas added to the system for an initial period and judges their desirability for the amount of page views gained and positions the villa in the list accordingly
g. Generates a system to rotate villas in top 10 list and homepage positions.

Elaborating on this point, consider 8 villa companies in a local network powering 16 prestigious agency websites. Informing an owner of a villa that they will receive a top 10 and homepage spot on all websites will often please an owner. But one is limited to only 10 places. Magic menus rotate villas, placing them in top ten positions and on the home page, but only for limited time slots. Creating more than 50 prime positions, to accommodate 50 different villas, private safaris and private islands

19. Magic Galleries (Long Tail Keyword SEO) (2.5% to 10%)

Magic Galleries is the concept of creating a photo and video library from the media we gather. Each villa page will have thumbnails near the bottom of the page showing all the pictures. Clicking on a thumbnail will lead to a dedicated photo page showing the photos at different sizes (Max 1920 pixels) and offering search options to see more of the same photos.

After three years this photo library will be extensive and very useful for people looking for images. For instance, if one wants a photos of a luxury kitchen, Magic Galleries will have over 500 quality images all of which have hi res options available for purchase.

Of course a lot of people will just use the medium res images for free, but that's the point. Google can tell the original source of the image and the more times an image is duplicated on other website the more Google respects the source.

Magic Menus will make the Villa Secrets websites popular for many keywords. Which when used in combination such as 'Luxury Villa in cape Town with beautiful kitchen' will result in top search engine positions. And note that Google does not allow ads for most long sets of keywords, making a number 1 position really number 1. Magic Galleries is a new concept in 'long tail' SEO exclusive to Villa Secrets.

20. Analytics 2

We already have Google Analytics working on all websites which gives us useful stats. For instance, it tells us all sorts of data about the clients that enquire. Their location, language, device, operating system and crucially where they came from, Google AdWords, Organic Searches, Referral, Social, Direct etc.… and in most cases it also tells us the search term used.

It also shows us which pages on the website are being visited. And most usefully a list of which search terms the website is ranking for and which pages are being viewed most.

Analytics 2 takes this process a step further, in particular giving a complete trail of a client's journey before making an enquiry. Which pages have been seen, which blogs have been looked at, even which you tube videos have been seen. Sales agents can use this information to assist their replies. A client who has never been to the site before may be better served with a different reply, top one for a client who has been a regular visitor.

In addition, sales agents will be told when clients are on the website, their history, if one has already captured their email address and phone number via 'Guest Gifts' or another method. The instant that the clients are on the website is a great time to call them.

Combined with the CRM and financial system Analytics 2 can give us greater information about each advertising method and keyword. As it will not only tell us about enquiries but also which enquiries made bookings and which enquires made lucrative bookings, and ads will be adjusted accordingly.

In addition to analytics for web sites, one can also get analytics for Social Networks. In three years' time we shall have integrated both the posting of web pages and blogs to social networks. Collecting all sorts of social analytics, letting us know which advertising or general usage is assisting the sales process.