Chapter 4.

S-Web CDS™ (Content Delivery System)

An entirely unique system. Watch this two-minute video https://youtu.be/JS8vJQ1KxbM to see how agents and clients can turn their 'favourites list' into a unique webpages, and watch https://youtu.be/X9-o3E4n2Dk to see us create an magazine article in less than a minute.

Index
Chapter 4.

S-Web CDS™ Content Delivery System

Chapter 4a. Is unique because…
Identify Problem /Present Missed Opportunities / Avoid potential Landmines
1. The cost of a dedicated content team to create and continue creating online magazines, blogs, and newsletters.
2. Rental agents don't teach clients about the location they are visiting or offer other travel options.
3. International sales are less likely to happen, as the client needs to visit the country.
4. Sales agents have few or no options to provide international sales clients travel options, and so the client is less likely to visit in the first place, and a significant amount of residual income is lost as well in the sales commission.
Is Unique

Because…

1. S-Web CDS™ creates a system that allows agents to create customised web pages for clients, which can be sent using the clients name; for instance, www.VillaSerets.com/Mr-Forrest.

2. S-Web CDS™ also created the same system but for clients to make their own pages and client suites.

3. S-Web CDS™ allows the team to create online magazines pages usually only seen on a big company's website in minutes, not hours (or days if you include photography and copywriting).

4. S-Web CDS™ is a system that allows agents to create their own attractive and informative magazine/blog pages in minutes; and, as such, can impress clients and owners by sending them some links to their own pages and continue to send the new pages they make after the client has completed their holiday.

5. What makes S-Web CDS™ completely unique is the system it has created for pulling in information created by copywriters and photographers into their own articles in discrete picture, header, and 60 words of text chunks; and so, creating a new page is as simple as writing a header and adding in the ID numbers one wishes to display.
Is a Solution to…
1. Keeping up with big companies with websites that have budgets for dedicated magazine/blog writers.
2. Improving the respect a client has for the agent via the agent creating their own magazine articles that are clearly considered as authored by the agent.
3. Allows agents to teach the clients about the location, attractions within, and excursions available.
4. Allows sales agents, who receive requests for properties, to not only sell the properties they present but also the location they are in.
5. Allows sales agents to present options for them to handle travel arrangements, so increasing the likelihood of the client coming in the first place, and greatly increasing the chances of the client being loyal to the agency they choose to buy from.
Chapter 4b. Villa Secrets, S-Web CDN™ Sales Tools
Welcome to Villa Secrets' Sales Tools.' To kick off, a simple tool that you can use that will improve your online bookings & sales by more than 20%
Please watch this 2-minute video: https://youtu.be/JS8vJQ1KxbM
And please try it out yourself by making your own Villa Secrets webpage.
1. Visit www.VillaSecrets.com.
2. Go to 'Destinations' > 'Best of Africa.'
3. Add a handful of villas to 'your favourites list' by clicking the plus symbols.
4. Go to 'Magazine' and add some articles.
5. Click 'MY LIST' at the top right of the page.
6. From the blue navigation menu under the logo, click 'Make my Webpage.'
7. Add your client, boss, or partner's name; email them and click 'Publish my Webpage.'
8. Click 'Add Comment' to start a very organised conversation.
If you or an agent in your team was closing 1 in 5 sales, do you think a system like this would improve the closure rate to 1 in 4?
Consider the following percentage breakdown: It's copywritten and visually superior 5%, its much better than email or mobile 20%, the client's name in the URL creates a sense of ownership 5%, and clients are much more likely to share with others 10%.
As all the info is neatly recorded, there's less room for error or confusion 5%; as the agent took only a few minutes, they have more time to deal with other clients 20%; future correspondence is quicker and more accurate 10%; and as agents can see the client's list adjustments in real time (including alerts on same), he/she is better able to close the sale 10%.
This adds up to 65% (or 85% via mobile); but we always provide a low forecast as well, so 20% to 65%.
S-Web CDN™ (Content Delivery System) is completely unique, as it pulls content from articles and product pages within the database. Soon, we shall see how S-Web is a fully integrated system,
"One does not plug it into a website, it is the website!"
Chapter 4c. S-Web CDN ™ System Architecture/Design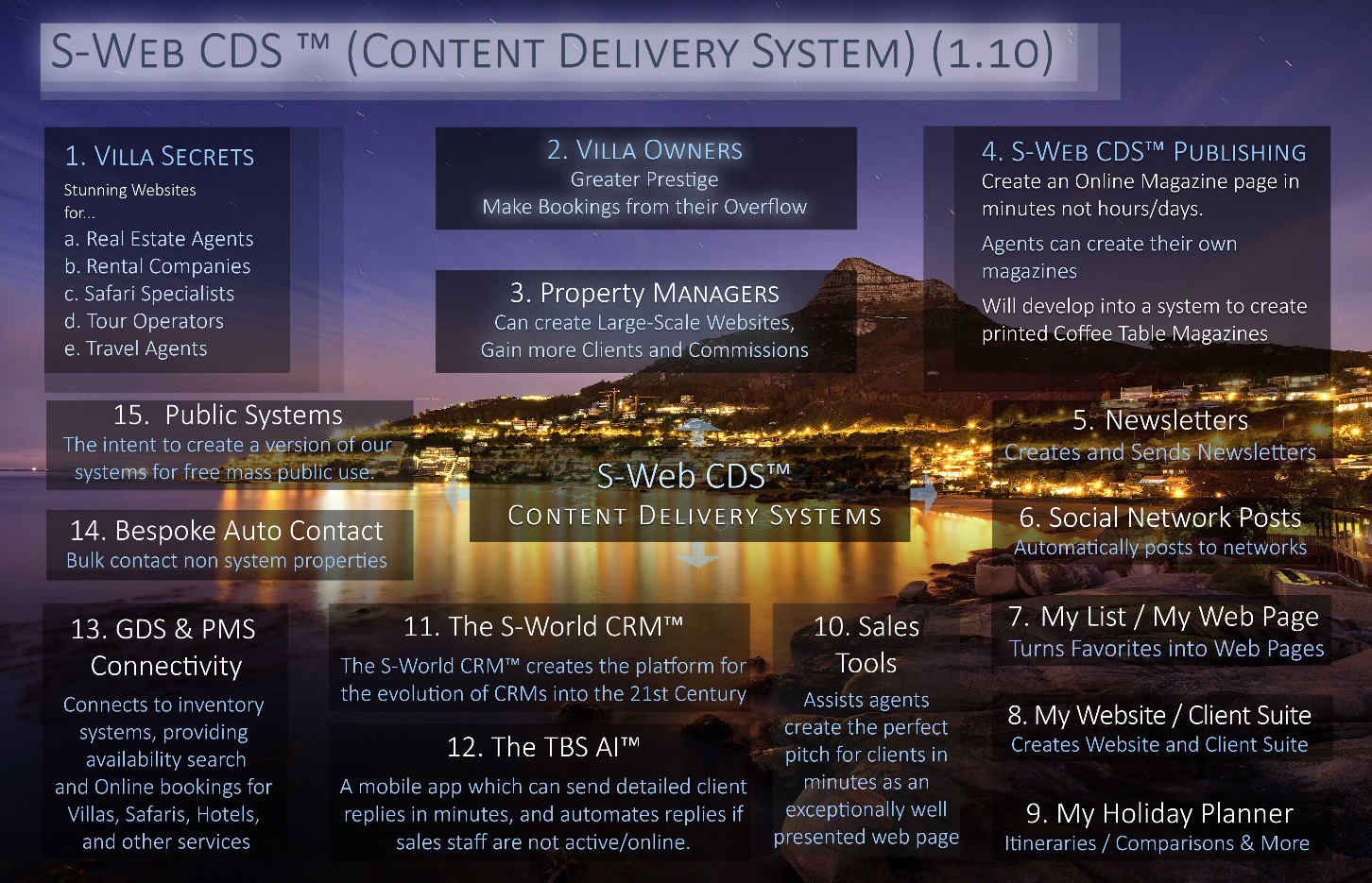 Above, we can see 15 systems that are created from S-Web CDN. We have seen System 10; now, we shall look at the other 14, and give low and high improvement forecasts.
The percentages presented represent the following: increase in enquires from website, opportunity to make bookings, increase in salesperson closing; for a total improvement of over 101%.
| | |
| --- | --- |
| 1. Villa Secrets S-Web CDS™ & TBS™ Integrated Website | 15% to 100% |
| 2. Villa Owner S-Web CDS™ & TBS™ Integrated Website | 15% to 100% |
| 3. Property Management S-Web CDS™ & TBS™ Integrated Website | 15% to 100% |
| 4. S-Web CDS™ Publishing | 10% to 100% |
| 5. Newsletters Created Automatically | 05% to 20% |
| 6. Social Network Auto Posting | 05% to 15% |
| 7. My List / My Web Page | 05% to 10% |
| 8. My Website / My Client Suite | 05% to 20% |
| 9. My Holiday Planner / My Itinerary | 05% to 100% |
| 10. S-Web CDS™ Sales Tools | 20% to 65% |
| 11. The Disruptive CRM ™(Customer Relationship Management) | 10% to 50% |
| 12. The TBS-AI ™ makes and assists bookings automatically | 10% to 100% |
| 13. CDS, PMS, and Other Inventory Databases | 05% to 50% |
| 14. Bespoke Auto Contact and Deal | 05% to 25% |
| 15. S-Web CDS™ & TBS™ Public Systems | 01% to 100% |
Chapter 4d. The Villa Secrets Online Magazine

One of many Villa Secrets USPs (Unique Selling Point) is The S-Web Magazine Creator."
Please watch this three-minute video presentation: https://youtu.be/X9-o3E4n2Dk.
Whilst this idea can be traced back to 2009, S-Web's CDS™ Publishing was forged as a response to web developers across the world raising their game and creating increasing more attractive websites in 2015 and 2016. The only way to combat this was to raise our game substantially. One idea was to create individual villa pages that looked like homepages; and, working in WordPress, we created pages like this: Serenity Villa, Ulusaba Game Reserve, and Cousine Private Island.
Whilst these pages were a great improvement on any other travel website and proved very popular with guests and villa owners, each page took about three to four days to create; and, as such, were expensive. So, I had the idea to create a super-fast CMS 'Content Management System' for our copywriter to use; and in so doing, after she had written the copy and chosen the images, adding the content and creating the slider was down to a dozen minutes.
Another advancement in other companies' websites since 2014 was the creation of blogs and magazines. This was as, if not, more time considering than creating a product page, as one needed to get content from a variety of sources. So, we created the CDS (Content Delivery System); and now, an article that took 3 days to make, takes less than a minute, see https://youtu.be/X9-o3E4n2Dk.
To see the article I made in the video, follow this link: www.villasecrets.com/Magazine/6-Exclusive-use-Safari-Lodges-to-fly-for-By-Nick-Ray-Ball/6811.
Lastly, we can see all the pages on www.villasecrets.com/Magazine. The trick to it is in how I call in the content for an article segment by adding the property's ID Number or take it from 'My List'.
Now, each Villa Secrets company can go blog and magazine mad, with each sales staff member having their own magazine, featuring their own articles, made in no time at all. This improves the website and is the key foundation of a good content marketing strategy. And of course, the sales staff's magazines make them seem more knowledgeable to clients. Just one of a great many ways S-Web and the TBS can improve sales staff's performance, increase the chances of an owner granting a mandate and the company's bottom line.
Chapter 4e. S-Web CDS™ My List / My Magazine / My Web Page
By Nick Ray Ball 30th April 2017

Welcome to another Villa Secrets USP (Unique Selling Point) which we refer to as My List / My Magazine / My Webpage, in which we give clients the option to turn there 'my favourites list' into a magazine display and then a unique webpage.
Please watch this three-minute video presentation: https://youtu.be/2h0NL0oXFfo and please follow the video or this email, and make your own Villa Secrets web page featuring your favourites.
This journey is as unique as the last, and built upon the same principle, but this time we create a tool for guests to use.
S-Web CDS™ 'My Webpage' begins with the standard 'My Favourites' function and presents a good looking page with properties that can be dragged and dropped into order.
We build upon this by giving clients the option to then see their list displayed in magazine mode, which is a superior presentation. And then the clever bit… We offer a super simple way for the client to create a unique web page, such as www.VillaSecrets.com/NickRayBall or www.VillaSecrets.com/NickRaysVillas/forCaitlin or any name one wishes which he/she can then send to their wife, husband, partner, boss or any others in the group. We are currently creating the functionality to create group functions and create a web site / client suite.
This accomplishes several objectives: It captures the clients email address and lets us know which villas he/she likes. So, increasing the ratio of visitor's vs enquiries. And it increases the likelihood of a client booking, as the more time they spend amending, showing the web page to others; the less time they will spend looking for alternatives. And in addition, as the list is addictive, when sent to others who can create their own lists (even if others in the group are talking to other agencies), the lists tools can help win the day.
And in further addition, if the person looking is the PA or other employee looking for the client, it's a great way for them to present it to their boss.
Further to this is a great increase in efficiency, as the Client Suite pages become the main communications method, and within all details are recorded.
Chapter 4f. S-Web CDS™ For Real Estate Companies
By Nick Ray Ball 1st May 2017

We have heard how the S-Web CDS and My List/My Website will win customers over, so now imagine what it can do for real estate clients.
Let us pretend that a deal has been done and we have synchronised databases. So, real estate companies' properties (over $2 million) appear on Villa Secrets and whatever website we make for the company. Added to which come all the mandates acquired by all other Villa Secrets companies and all 'open mandate' villas, which collectively creates a significant portfolio.
Then we add a customer, which could have come from the internet, a walk in, or any other method. In all cases, it is likely that the agent will at some point send the client an email. If the agent uses S-Web, this email will take only a few minutes to make and is vastly superior to whatever email would have been written; and at the top, it contains the personalised client link: www.mywebsite.com/mycleint/their-list. As before, the client will receive a beautifully presented webpage in magazine format that looks a million dollars via mobile.
On receiving their email, the client can reorder the villas, make different lists, and create the option for their partner, boss, sub agent or anyone involved in the buying process to create their own lists. And a master page is created which presents various ways to look at the collective data.
This is already a useful bit of kit. However, this is only the beginning of what we shall create. In addition, we shall provide the client with a great deal of data and statistics from a construction watch that pinpoints ongoing construction and locations that could be adversely affected in the future, to lists of schools and universities and various raking data. Plus, hundreds of other factors that are important to home buyers; creating a platform so useful and so easy to use that it becomes the new standard in real estate in Cape Town, then California, then the world.
Lastly, if in the future I suitably impress Paul G Allen, Mark Zuckerberg, Will Wright, Larry Page & Sergey Brin; we will build 'S-World Virtual Business Network' which will create the technology to create, pinpoint accurate and visually superb 3-D virtual renderings of the property; which present the same data but within a virtual Cape Town.
That is even more addictive, as clients can completely remodel any house they wish, using tools so simple they were designed for 7-year olds. This technology has the potential to completely disrupt the current market, and future-proof business; from a company like Airbnb adding a for sale option to its platform and creating a price war that forces Realtors in the USA and Cape Town (usually about 5%) to lower their commissions to UK standards, which are sometimes less than 1%.