Chapter 3.

Mandate Marketing

Over 50% of rental commission from mandates is spent on increasing the desirability of each property. And because of this prestige marketing, rental mandates turn to sales. There's a lot at stake for Real Estate agencies, as they make all the sales for all the companies in the network.

Index
S-World
Villa Secrets
Operations Manual & Business Plan
By Nick Ray Ball 20th July 2017

Chapter 3. Mandates, Mandates, Mandates
Part 1.
Mandate Symmetry
Welcome to 'Mandate Symmetry' which provides an update to the original April 2017 'Mandate Marketing' chapter: http://network.villasecrets.com/mandate-marketing.
An object is said to have symmetry if it has interchangeable qualities. For instance, the magic of a snowflake with its hexagonal shape, which looks the same when rotated in 60-degree increments.
We have been working on mandate symmetry for quite some time,
but what is mandate symmetry?

Mandate symmetry is when a sole rental mandate is converted into a sole sales mandate, or vice versa.

Just like real estate sales, the single biggest income generator for a vacation rentals company is the acquisition of mandates, now more than ever, as there are a host of commission-based advertising platforms. However, when it comes to securing mandates, real estate agents are far more experienced and focused; which is one reason Villa Secrets is first approaching real estate agents to run its primary networks.
What is a
Primary Network?
A primary network is a collection of over 8 agency websites focusing on a specific location. For instance, in Cape Town, the following websites are considered:
VillaSecrets.com (Cape Town), Villa Secrets.co.za, CapeLuxuryVillas.com, CapeVillas.com (Phase 1 only, conditions apply), Cape-Town-Luxury-Villas.com, VillasInCampsBay.com, CliftonLuxuryVillas.com, BantryBayVillas.com, LuxuryApartments.CapeTown, KapstadtVillas.com. Plus, access to all S-Web and S-World systems.
Why

Real Estate Agencies?

The advantages of real estate companies having seasoned mandate networkers within the ranks aside, there is a more critical reason for Villa Secrets to first offer leading real estate agencies the primary network opportunity that lays just beneath the surface.
Villa Secrets desires to create a network of many businesses in each location, most of whom will recruit rental mandates. Indeed, we have identified over 25 different business niches that can benefit from joining Villa Secrets and recruiting rental mandates; from top architects to property developers, luxury villa rental companies, safari specialists, tour operators, property management companies, location companies, wedding planners, events companies, business travel specialists, concierge companies, to individuals who just happen to know people who own villas; the list goes on and on (see Chapter 2. The Network).
But because all such companies are, to a degree, competing with each other, they would not be impartial and so are not ideal candidates to head up the primary network, run VillaSecrets.com, and its 8 companion agency websites. However, a leading real estate agency can because of 'mandate symmetry.'

Let's not kid around. As exciting or unexciting as the prospect of owning a leading vacation rental company may be to the CEOs or MDs of a real estate agency, it is nowhere near as exciting as the prospect of their estate agency increasing the number of sole mandates of luxury villas for sale
by as much as 70%.
And because of this, leading real estate agencies are the perfect shepherds of the network. As instead of seeing other Villa Secrets network companies that recruit rental mandates as competitors, they see them as contributors; as they recruit rental mandates that turn into sales mandates that only the real estate company can sell. And because of this, the interests of the holding company, 'Villa Secrets Ltd UK,' and its real estate agency partner are aligned. Both will desire the local network to recruit as many rental mandates as possible and will share the philosophy: the bigger the network, the better.
The key point here is that most companies will recruit rental mandates. And due to mandate symmetry, most rental mandates will turn in to sale mandates,
but only the real estate company can make the sales.

Above, we see some advanced forecasting created using game theory that provides us with the previously mentioned 70% increase in mandates figure. This is explained in detail in Chapter 22. 'Real Estate Systems & Wins.' We need verification on the exact numbers of properties sold for over $2 million. For now, we are working on figures from Remax that suggest about 100 per year in Cape Town Atlantic Seaboard, City, Waterfront, and Constantia areas. We have estimated that the top 3 real estate agencies probably sold about half of them, and so each top agency on average sold 16.6 properties.
In this forecast, we move a few years forwards, and estimate that all companies in the Cape Town network amassed 15 sole mandates for sale that were sold by the real estate agency that acquired primary network opportunity. Which makes a net gain for the real estate agency on 12.5 sales. Which if the company is currently making 16.6 sales is a 70% increase. However, as previously mentioned, this is just an example, and we need access to more data to be precise; especially as 100 properties sold for over $2million sounds rather low.

Because the above is only considering mandates gained that were sold, in Chapter 22, we also present a more powerful and lucrative game theory scenario based on what we call 'Jet Set Marketing'; which are initiatives to bring more jet set clients to Cape Town in the first place. And once they have arrived, without applying any pressure at all, our concierge and hospitality reps will present options for sale and will then work with the estate agency to make a sale if the clients are interested. We will also have sent a few well-presented communications before arrival, presenting properties for sale, and we desire to have properties for sale sections on many of the websites.

See or request Chapters 21. 'Prestige & Jet Set Marketing' and 22. 'Real Estate Systems and Wins' for more details of the above point. But for now, in this chapter, we are focusing only on mandates and ripple effects created from the acquisition of mandates, beginning with 'Mandate Marketing.'
Part 2. Mandate
Marketing

Mandate Marketing –
The Overflow
The first step towards Mandate Symmetry (turning a rental mandate to a sales mandate) is 'Mandate Marketing.' But before going into detail, we need to explain 'The Overflow.' This is where we make each mandated villa its own S-Web CMS Framework website (see Chapter 1) and aggressively market it via many sources. The first advantage of this is the many enquiries for the villa that make lots of bookings, so making the property owner happy.
But here's the trick, because a top villa can receive 20 or more enquires for peak times but can only be booked once, we use the additional enquires (the overflow) to book other villas. And the income from booking other villas is more than can be made from the mandated villa. And so, we can effectively write off most the income made from the mandate income and profit instead from the overflow, giving the deal of the century to villa owners and mandate recruiters but still making a lot of profit.

Mandate Marketing

– Commissions

Airbnb has disrupted the global vacation rentals market, in part due to their commission structure which to most seems to charge 3%. However, they add a 6% to 12% commission on top and call it a service fee. Albeit, as they do not offer any services, so they really should call it a booking fee.

However, love them or hate them, Airbnb is here to stay. And on the plus side, Airbnb has introduced a lot more property owners to short-term letting, and so have increased the number of villas available in the marketplace. Which is a distinct advantage to all because in high season, the biggest problem Cape Town agencies and agencies across the globe have is lack of stock. And it's simple enough to contact the property owners of Airbnb and others like HomeAway directly, so both become a good source for recruiting new properties, first on a bespoke basis and later as mandate opportunities.

To go one step better than Airbnb, the Villa Secrets commission model undercuts Airbnb, charging only a 2.5% commission. To go better again, instead of a 6% to 12% booking fee, Villa Secrets levies a 6% to 12% concierge and hospitality contribution which provides for the quintessentially matching concierge services described in Chapter 12, plus villa competitive grading, personality match, construction watch, and many more essential services.

So, in comparison to Airbnb, guests receive a tonne of services. And because of these services, it's perfectly reasonable to charge more than Airbnb. And as such, the concierge and hospitality fee is more like a marketing expense, either allowing us to increase the price of the villa in the first place, or to charge the same and expect more low-season occupancy, increasing the villa owner's net gain; and because we work on commission relative to the owners gain, Villa Secrets increases its gain at the same time.
Mandate Marketing – Direct and Prestige Marketing

The next commission step is 'mandate marketing,' which sees 10% of each booking spent directly marketing the villa. This, like the concierge and hospitality fee, is a give not a get for the villa owner as we make this 10% work triple. And this provides truly awesome marketing as is presented in 5 different chapters (15, 16, 17, 18 & 21), which increases rental rates, bookings, and in particular low-season bookings.
And in addition, it also increases the prestige and value of the villa, makes it stand out, and increases its for sale value. Or if a villa is priced for sale highly in the first instance (which many are), it helps to achieve this high price.
The 10% marketing income is split into 4 categories.
Marketing Platform Creation

& Content Marketing

An S-Web CMS Framework Website, SEO (search engine optimization), photography, photoshop, article writing, content marketing, and syndication of same, plus use of all S-World and S-Web systems.
SEM

(Search Engine Marketing)

Advertising on Google and other Online Advertising.
Prestige Marketing 1.
Print Media
Condé Nast Traveler, Vogue and other advertorial, the Villa Secrets Coffee Table Book, and luxury brand association.
Prestige Marketing 2.
PR & Film
Film, Video, PR, Photoshoots, luxury brand test shoots, and Ads.
1. Platform Creation &
Content Marketing
Because we own the S-Web CMS Framework and as a consequence of the call centre (see Chapter 13), we effectively get our content writers for free. We can create websites for villas that, including rich content, would cost $50,000 (note that Contently would charge $25,000 for the written content alone) for just $5,000. And because we have the S-Web CDS™ Content Delivery System (see Chapter 4), it takes our content team just 15 minutes to create a new Dream African villa vacation article. So, we can add new articles each week to the mandated villas own online magazine, then syndicate the content across social networks, luxury blogs and create newsletters, generating a buzz and encouraging bookings.

No company in the world can do this, as no company in the world has either an S-Web CMS Framework, or an S-Web CDS™. And this is one reason why 'Mandate Marketing' is a system that cannot be easily copied, as it would take other companies much of the 10% just to create the platform described above, especially if they used an external web development and content marketing company who would add on their own profit and most would also need to charge VAT.
Whereas within the Villa Secrets network, there is no profit made from development or marketing; and as it's an internal service/department, there is no VAT implication.

Another advantage of having both an S-Web CDS™ plus a dedicated content writing and media production department, is that each individual villa's website will have good SEO enhanced by each website's own online magazine/blog pages; as the online magazines show global villa holiday options which can be added to blog directories and can be used as a basis for guest blogging, where we write an article for a high profile luxury travel blog and link it back to the website.

One consequence of having a top draw website is that if one chooses to use booking channels (like HomeAway and Airbnb), because many clients will Google the name of a villa seen on such channels to see if they can book the villa direct and not pay the channels commission; the mandated villa website gains clients from these sources for free. And if a client was interested in the villa on HomeAway, Airbnb, or other such websites in the first place; when they see it in its full glory on its own S-Web website, the probability of the client enquiring increases, as do the chances of making a booking.
The S-World CRM-Ai™
Lastly, the use of the S-World CRM-Ai™ (Chapter 6) and other systems increase the number of enquiries received and then the amount of bookings made from enquiries, increasing ROI (return on investment) from all advertising.

2. SEM

(Search Engine Marketing)

Advertising on Google and other Online Advertising

Because of the great online presence, the S-World CRM-Ai™ and other systems' online advertising is doubly effective. There are a lot of advertising opportunities on Google and other websites, but as they can be copied by others, all SEM advertising strategies are confidential.
What we can say is that from this advertising, we increase the demand for the mandated villa; so, achieving a better price and/or better occupancy and make a bigger 'overflow,' as when the villa is booked or otherwise unsuitable (for instance, a family with young children is booking, and the villa is not 'children friendly'), we can use the enquiries to book other villas. We tested this last year and created an ROI (return on investment) of 500%.
3. Prestige Marketing 1.
Print Media
Condé Nast Traveller, Vogue and other advertorial, the Villa Secrets Coffee Table Book, and luxury brand association.

Now, we come into the arena of 'mandate symmetry' and how we make the case for owners to give the first opportunity for sale to the Villa Secrets primary network real estate agency.
However, before we even start to present this case, we can consider that, in a number of cases, due to the 'prestige marketing' initiatives, a number or even many rental mandates may include the first option for sale as a condition of the rental mandate in the first place. However, as we have not yet tested this theory; for now, we focus on a strategy to encourage villa owners to freely choose the Villa Secrets affiliated real estate agent when they choose to sell.
One of the essential criteria is that the estate agency who represents the Villa Secrets network of companies (the primary network) needs to be amongst the leading contenders. It must be an agency that a villa owner may have chosen by their own volition. Or better still, 2 of the top agencies join Villa Secrets so the villa owner can pick one or the other or request a dual mandate.
Getting back to prestige marketing, as our primary website www.VillaSecrets.com is populated by Africa's most prestigious villas, safaris, and private islands; we are seen as an authority. And in conversations with several Condé Nast publications including Traveller, Vogue, and House & Garden; we qualify for near front of magazine advertorial. Four-page spreads featuring a mandated villa and then 2 or 3 African super-brand properties; such as North Island where Prince William and Kate Middleton, the Duchess of Cambridge, went for their honeymoon; or Sir Richard Branson's Ulusaba Lodge, or the exclusive use Cousine Island in the Seychelles.

Associating any quality Cape Town villa with such properties, within a trusted award-winning travel and lifestyle publication, will give the reader the impression that the mandated Cape Town villa is as prestigious as the properties it is seen with. (Brand Association 101)
This will increase bookings for sure. But the point is not only to increase bookings, it is to add a significant piece to what we call 'the estate agent's marketing pack,' which is to be a beautifully bound physical pack of marketing material. Which for villas over $4 million in value will include at least one feature, as described in a leading lifestyle magazine that looks to any client like a genuine article by the magazine.
Ergo, it's not the estate agent saying, 'it's a very prestigious property.' It's not Villa Secrets saying, 'it's a very prestigious property', but instead one or more Condé Nast luxury lifestyle magazines will be saying it. In print, near the front of their magazines, in advertorial that looks just like editorial; and so, it appears not to be an advert but a genuine recommendation from a publication with impeccable credentials. As in the case of Condé Nast Traveler, its own awards are considered one of the highest, if not, the highest recommendation in luxury travel, and any association thereof is worth its weight in gold.
Whilst Condé Nast Vogue does not have an awards section, Vogue speaks for itself as the world's leading fashion and luxury lifestyle magazine. It's not just any magazine that Catherine, Duchess of Cambridge, would associate herself with, as she graced the centenary edition of Vogue in which Villa Secrets first presented itself to the fashion world.

In addition to the costly Condé Nast advertorial, we will repeat the exercise in other less expensive luxury magazines to pad the pack and to include villas under $3 million.
Added to these packs come entrance in either a Villa Secrets Coffee Table Book or magazine, which will impress due to its design, its editorial; in which amongst other sections, we will have 8 different multi leg six-star African villa holidays/experiences, each suggested by a different leading player. For instance, North Island will pick 2 or 3 venues they recommend alongside their own, for a Pan-African luxurious honeymoon. Or Lion Sands would create a Classic African safari, plus beach, plus Cape Town experience.
This creates a lot of ripple effects, not least being good relations with such venues and the possible creation of Villa Secrets websites for them, to benefit from their overflow when they are booked; or if a client wants a multi leg trip, they can present their Jet Set clients to Cape Town and other Pan-African villas options.
In addition to such articles, we would like an article by Stefan Antoni on his favourite villas worldwide. In further addition (which may only materialise in our second publications), we desire to product place a number of luxury brands in some of the properties. All in all creating a very prestigious publication.

In many cases, especially if a villa has been mandated for a while, the 'estate agent's marketing pack' will include a number of magazine features and more than one Villa Secrets publication.
It is these packs that start to create 'mandate symmetry,' because we shall send a handful of copies of all publications to the villa managers and owners; and they will know we have about 50 packs of these publications to give to the real estate agency, to assist them in marketing the villa for sale. And because of this, the owner is almost certain to give their first sole mandate to the estate agency who has access to the physical marketing material.

In addition, another ripple effect of creating the prestige marketing material is that the magazines and books will provide the Villa Secrets primary network realtor with direct offers to buy properties. We know for certain that despite not even mentioning property sales, at least one of the properties in our last magazine was sold to an overseas buyer who did not even visit the property. They bought it from the strength of the magazine alone.
Villa Secrets publishing is another area where it will be hard for any competitor to compete. The volume of business and the 'wow and awe' associated with Villa Secrets sees deals on advertising half the price others would pay. And for our own publishing, an adaptation of the S-Web CDS™ makes the production process super simple saving 50% of cost; plus, our distribution strategy that comes from 9 years of consideration of how to better our first Condé Nast districted publication is very well considered, maximises value, and minimises costs.
And just a quick note, re the quality of our publishing, our last publication saw the leading luxury brand 'Bulgari' contact us and say, '
We did not know you had such luxuries in Africa

'; offering $100,000 in barter to feature in the follow up. It is our plan to exchange placement in our publications for barter from leading luxury brands, perfume, handbags, etc. Which we will give to jet set clients on arrival and send to them on special occasions such as Christmas and anniversaries, creating a truly unique remarketing initiative for both ourselves and the luxury brands themselves.

Chapter 18. 'S-World Publishing' tells the Villa Secrets Coffee Table and Magazine story in great detail. But a significant factor that is relevant to this chapter is that portfolio managers, mandate specialists, and concierge officers will hand deliver each publication to every villa valued over $2 million (that is to our liking) on three separate occasions.

This very exercise is mandate winning. Indeed, in the past, we gained more contacts from this method of acquiring mandates than any other.
All in all when you add it up, we can promote our mandated villas in significant publications, where others could not. And whilst this may seem costly,
its well within the 'Scenario 7' budget

, due to the ripple effect methodology of the project.
4. Prestige Marketing 2.
PR & Film
Film, Video, PR, Photoshoots and luxury brand test shoots and Ads

The last part of prestige marketing is like many actions a result of a ripple effect and can be considered cost free to the network; as the concierge and hospitality department is set to be created and staffed as a combined concierge, PR, and film production department (as is the subject of Chapter 12). And that department is tasked with making videos and films of the villas whenever there are no guests to tend to, which is about 50% of the time.
This concierge vs film department symmetry was based on the age-old question in the industry of 'what to do with hospitality staff in winter?' And our answer is to recruit mostly from the film industry and let them make their own productions when not serving guests. This not only makes the department seem more prestigious and fun, it also helps to recruit a better calibre of charismatic concierge and hospitality agent in the first place; and recruits the kind of people who have genuine influence and know where it's at.
The objective of the department, when not on concierge duties, is to create broadcast quality TV shows. One show will just be about the team and what they are doing, a reality show of sorts with weekly episodes shown for the many websites.
A second and more significant production is to make
a TV series of the most prestigious villas for broadcast internationally.
In the UK, there is a TV series on a semi-major channel about villas in New Zealand. But to be honest, most of the properties are not to the same standard as the best villas, exclusive use safari lodges, and private islands that Africa has to offer. Which is in part down to the magic of Stefan Antoni who, in my opinion, is the world's most creative and visually spectacular architect, and the benchmark that he set to others.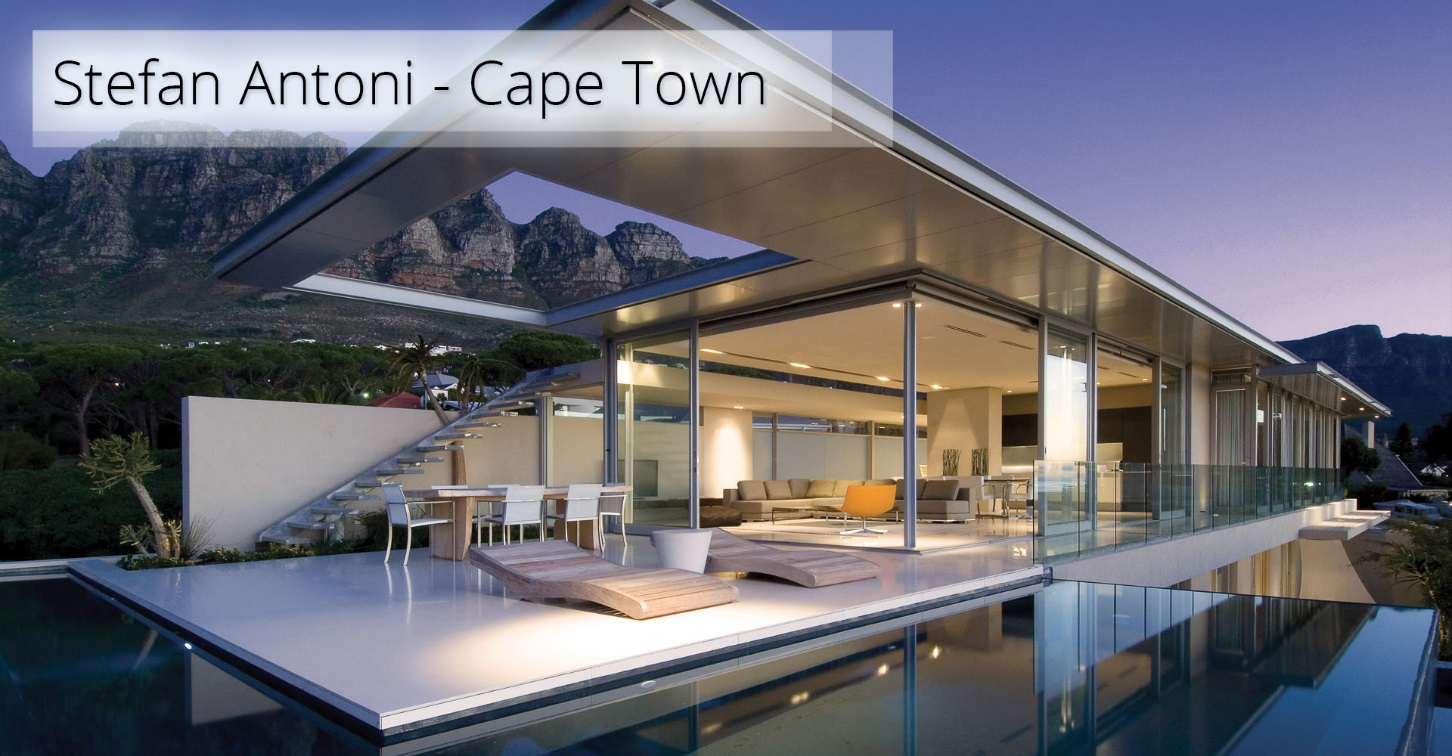 The property seen above was designed by Stefan Antoni in about 2008 and is located in Camps Bay, Cape Town; which became the source of our most lucrative booking to date, just under a quarter million of US dollars.
On a personal note, one of the biggest mistakes of my life was in 2001, after buying a 'knocker downer' property in Camps Bay. Then meeting with Stefan about the rebuild but going with a far lesser designer due to a transient friendship with a project manager. Stefan's work since has been an inspiration to many and is one of the reasons that Cape Town was, for a long time, the most expensive location to advertise the word villa on Google.
Nowadays, Stefan Antoni is truly international, you are more likely so see a Stefan Antoni Villa in California than Cape Town. But Stefan's work can be found right across the globe from St Tropez to Dubai.
Below, we see a design for a property in Los Angeles. You can see them all at www.saota.com/single-residential.

Getting back to the concierge/film department and the luxury villas TV show, as well as having more exciting properties, I would say that Cape Town and Africa are (in general) more popular than New Zealand (unless you live in New Zealand). So, there is no reason why a production, created of the same quality with more visually appealing properties in a more popular location, would not get aired in the UK and many other locations; and in particular Germany if we create a German language version, and the US where 'Made in Africa' is a brand all to itself.
But even if the show is not aired, the material is great for the mandated villas' own websites, and in particular creating homepage videos like we see at www.sothebysrealty.com. The productions will add to and improve our agency websites and can be marketed on channels like You Tube, which has become quite the place to find luxury villas. Plus, there is greater content for content marketing and it will improve SEO. So, there's a lot to gain, with a bonus of the TV series being shown internationally.
Alongside making the TV shows, the department will also create test shoots for luxury brands. And from time to time, the luxury brand will bite and shoot at the villa, particularly if we are already working with them on the Coffee Table Book. The brand association of seeing Bulgari, Chanel, Armani, or other such brands shoot at a villa (in terms of prestige and brand association) is another reason for a buyer to buy.
Another job of the Concierge/Film department is PR both locally and internationally, seeking to get the material we shoot into international magazines and on TV. To aid us in this venture, we are creating a number of Awards websites such as: ArchitectAwards.org, WorldVillaAwards.org, and SafariAwards.org; which we will create as legitimate awards linked to our non-profit ventures such as Experience Africa. We don't need to cheat, we are mostly interested in the villas that would win awards in the first place. And if there is a villa we do not represent that is recommended / nominated, we will start representing them. The awards are as much about recruiting as they are PR; but nevertheless, PR gets easier when one has bona fide award winners to syndicate.
Lastly, it is an initiative to give celebrities significant discounts if we can film them or do a photoshoot of them at a property; nothing too obtrusive and they will have editorial control. Villas that are willing to offer such discounts or even a completely free ride are known as
'Celebrity Homes.'
Put it all together on a disk; the TV shows, the luxury brand test and real shoots, and various other shoots and videos, plus all other TV shows that featured the villa, plus the awards, and celebrity endorsements; and that's a host of great material for the real estate agent's marketing pack.
Add prestige marketing 'print media' to prestige marketing 'PR and Film' and we create such a mass of marketing material that the villa's owner will be sure to give the first mandate opportunity to the estate agent that has access to the estate agents' marketing packs. And because of the packs, the properties are easier to sell.
And of course, the mandated villa's own website will impress and feature all the materials found in the packs, plus a clear and simple track record of all the bookings, commissions, and payments which will interest any buyer who was not intending to live in the property full time.
Lastly, as the primary network opportunity has 9 websites, we have a lot of 'home page' real estate, and so properties for sale will feature prominently on several websites.
Add it all up and we create
Mandate Symmetry

, as

'the rental mandate turns to sale'

due to a superior online presence, prestige marketing, and the estate agent's pack.

Now that we have demonstrated how the rental mandate turns to sale, we see that every rental mandate has value; and so a good question is, how many rental mandates do we expect the primary network to gain directly? And how many mandates do we expect other Villa Secrets companies to gain?
Part 3. Acquiring
Rental Mandates

In our 15 years' experience, including CapeVillas.com, Experience Africa, Cape-Town-Luxury-Villas and Villa Secrets; we know that adverting in on the top 4 places on Google brings in about 4 good rental mandate opportunities a year, and two of them for platinum or diamond class (six/seven star) properties.
Unlike booking enquiries, there is often no competing agency for mandates and one should expect to close 50% of chances.
Now imagine not one great looking website but 9 or more, all with power domains and not just advertised on Google, rather all the other marketing methods contained within the operations manual. If basic math holds, one should expect at least 9 x 4 opportunities making 36 opportunities.
However, this is only one of many different mandate-recruiting systems. So, the best answer is 'more than 36 opportunities.' We shall go through these mandate-recruiting systems shortly.
But before we do, consider what would happen if each of the sites also presented properties for sale? How many sales mandates opportunities do you think they would achieve? Chances are a few, or even a lot… this and other opportunities are considered in Chapter 22. 'Real Estate Systems & Wins.'
Mandate Prospecting System

and the CRM CC™

Sometimes mandate opportunities will just fall in our laps. For instance, direct enquiries from the vacations rental websites. However, in the case of prospecting or if a villa owner has come to us alongside other agencies and prefers a joint mandate; by following our mandate prospecting system, we lay the foundation to turn a joint or open rental mandate into an exclusive mandate and create a defined process for prospecting.
Whilst the following graphic showing the CRM-CC™ is showing a system that is only available to us as a web application in March 2018 and as a mobile App in November 2018, this can in part be followed via the HubSpot CRM which is free, and all staff will have access to until we complete the CRM-CC™.
Sole Mandate & Best STO
Deal Preparation
STO stands for 'Standard Tour Operator Discount' and is the difference between the 'public rate' charged by the property and the 'discounted rate' offered to the agency.
In the graphic below, we see the 'deals' page, which will automatically update as soon as a task is complete, moving a deal stage from 'red – not complete' to 'green – complete.' Or if a deal stage is in progress, it will be seen in blue.
There are 11 different stages to this process that happen before we pitch for a mandate:
1. New property identified
2. Basic details received
3. Got images
4. Qualifying assessment 1 to 10 (where we prioritise higher numbered properties)
5. Sunset photo shoot
6. Daytime photo shoot
7. Add photos to web page
8. On site article
9. Publish web page
10. Owner edits/ approval
11. Create magazine article & home page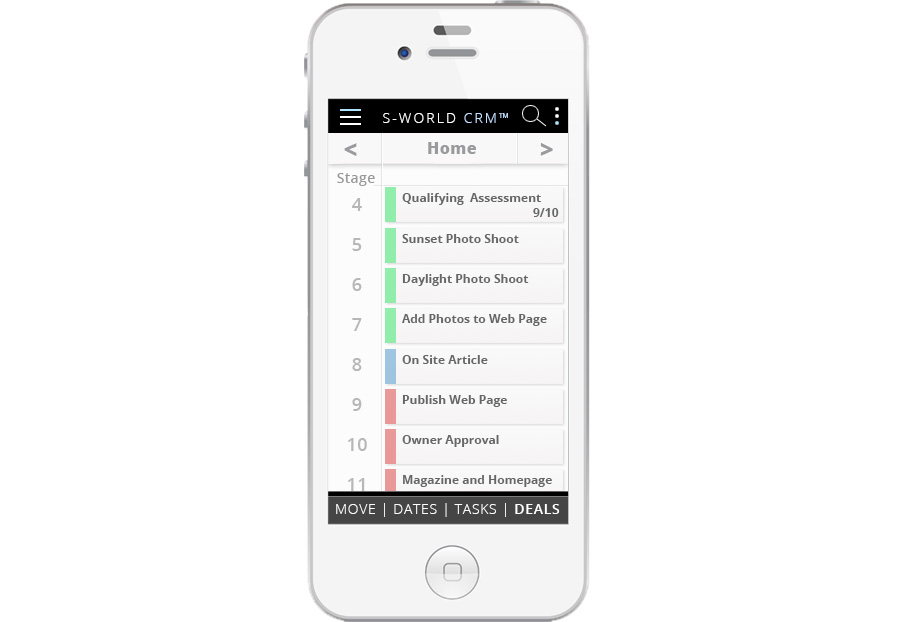 Once all the stages are complete, magic can happen; because the villa web page looks like this www.villasecrets.com/Villa/North-Island-Villa=6061 and a magazine article is created like this www.villasecrets.com/Magazine/My-10-majestic-African-villas-safaris-and-private-Islands/A0010, which presents the property in an illustrious company within a Pan African mega article.
In addition, the villa's article will be automatically added to the villa's home page as part of the magazine articles section. Then due to the S-Web CDS™ (content delivery system), more articles can be made in minutes (to see this in action, please watch this three-minute video presentation: https://youtu.be/X9-o3E4n2Dk ).
And as a result, at the end of the deal preparations process, one has the unique villa page which shows the villa in a better light than any other company can, alongside a handful of different articles on luxury villa vacation experiences across Africa seen on different websites. Plus, the villa's page itself will appear on the home pages of quality websites. And for villas valued over $4 million, the property will be the first image on the homepage of at least one website.
This is the point where the property managers and owners see Villa Secrets as the company that goes the extra mile. And this is the time to start the pitch for a mandate, as an experienced and seasoned sales mandate specialist joins the portfolio manager to help bring home the opportunity.
Even if a mandate is not secured, one will have made better friends with the owner and may get a better STO or better bespoke discounts for quality bookings, and we have more great content for the websites.
Twenty-Eight Ways

Villa Secrets attracts Sole Mandates

This section presents 28 ways within 14 categories in which Villa Secrets will contact or be contacted by villa owners and managers…
1.
Adverting on Google, Bing, and other such online advertising platforms.
a. Villa Rentals Agency Adverts on Google AdWords & other online advertising platforms
As previously mentioned, in our experience since 2002, adverting a vacation rental agency on the top 4 of Google has the ripple effect of gaining about 4 good rental mandate opportunities a year, and two of them for platinum class (six-star) properties. So, it follows that adverting 9 different websites, all with power domains, can generate 9 x 4 mandate opportunities, making 36 opportunities.
However, some agency websites such as 'Bantry BayVillas.com' will not receive the same amount of Google Advertising; and so for caution, we should lower this figure by 25% to 27 opportunities.
b. Adverting on Google, Bing, and other such online advertising platforms directly for property management keywords
A good number of villa owners seeking to rent their property will first look for property managers or management; and whilst we do not directly offer property management (because if we did, other property managers would not wish to work with us), we are creating a detailed CMS (content management suite) for property managers to add their profiles and prices on the Villa Secrets websites; from which a new villa owner can pick their favourite property manager who will do the management while we handle the bookings calendar and provide concierge.
This is a distinct advantage for property owners, as the best property managers are often hard to find; and in addition, a villa owner may be nervous to use a smaller property manager for trust reasons. However, often the smaller the management company, the more individual time the owner of the company has for each property. By choosing a manager from the Villa Secrets selection, the owner knows there is a degree of oversight, and that the managers presented are fully recommended.
An important aspect of the Villa Secrets and property manager relationship is that so long as Villa Secrets handles the bookings, we don't ask for a share in the property managers fees when we introduce a client; and because of this, all our choices are specifically because they are the best in town, not due to financial incentives.
A ripple effect of this action is that after a while, some of the property managers may wish to become Villa Secrets companies in their own right, bringing their original existing portfolio with them.
2.
Portfolio Manager
One of the first appointments for both Cape Town or international locations should be the Portfolio Manager. The portfolio manager has a multitude of tasks to perform, from organizing the villas that come in from PMSs (where pictures need to be re ordered and attributes added), to prospecting for new villas and organizing the copywriting and photography.
As the portfolio and tasks increase, this becomes a department.
a. Hand delivery of Villa Secrets Coffee Table Book
In all of Cape Town, there are about 500 villas that we would like as mandates. Going house to house, the property manager and others from concierge or a dedicated mandate networker, plus a friendly domestic; they team up to present the book to whoever opens the door and ask that it be given to the owner. Or if the owner is away, add it to their coffee table. This exercise can be repeated 3 times every 3 months or so.
In our experience, this is a very good way to recruit new properties.
b. Hand delivery of Villa Secrets Coffee Table Book to existing contacts
As mentioned above but for properties already in the Villa Secrets databases.
c. Prospect daily from Gumtree, Airbnb, & HomeAway
At the beginning of each day, the portfolio manager will seek new properties added to VRBO (vacation rental by owner) websites.
d. Open Rental Mandates
Using as many sources as possible including the Villa Secrets and Cape Villas databases, the portfolio manager will list all the villas that are on open mandates (where the owner has not seen fit to work with one company or another and is representing the booking process themselves).
From this list, the portfolio manager will start the process of 'Deal Preparation' as was seen previously. Creating a top draw online presence on over 12 different webpages including half a dozen leading villas of Africa articles. And once created, the mandate networker will join with the portfolio manager to present the mandate opportunity to the villa owner.
3.
Real Estate Agencies
a. Sales Staff Recruiting from their personal contacts
Sales staff from the real estate company that won the primary network opportunity can approach their list of contacts, presenting the mandate opportunity. When they recruit a mandate, they will share 35% of each commission; which would typically be either 25% to 30% for them, and 5% to 10% for the property manager. The distinction being if the property manager finds the villa in the first place, they will get 10%. But if they are only assisting a mandate recruiter, they will receive 5%.
So, for this specific point, it would be 30% to the realtor.
Working on a 5.5 or 6-star Villa that would rent at New Year for about R60,000 / $4,600 a night and cost about R40million / $3million to buy; using both the 2.5% commission and an average of the 6% to 12% concierge and hospitality fee, an income of just over R500,000 / $48,000 in rentals is achieved in the first year, increasing in later years.
If working on 30%, the residual income made by the mandate recruiter is R150,000 / $11,500. So, if the agent could sign 4 mandates, that's an additional income of R600,000 / 46,000 a year or more. If the four properties stay available for rental for more than 3 years (which is common), the mandate recruiter would make $1.8 million / $138,000, or substantially more if villas recruited were diamond class (7-star) such as newer Stefan Antoni villas.
Overall, a very good incentive for any real estate agent to ask their contacts if they would like to rent their property via Villa Secrets.
b. Sales Staff from other Real Estate Agencies
The same as above can apply to any real estate agent, although the Villa Secrets primary network agents will have the first opportunity.
c. Open Sales Mandates
At any point in time, there are several properties for sale on an open mandate, for sale at the right price. Each represents a good option for an estate agent to push for a sole rental mandate, as the owner will be impressed by our prestige marketing initiatives to increase the prestige, value, and desirability of their home.
The effort, in this case, paying double as the prestige marketing increases the likelihood of a sales mandate, once the estate agent's pack is full.
d. Properties Sold to Clients that wish to rent
Each time the real estate agency sells a villa, there is the opportunity for a mandate; and a good opportunity particularly for overseas or out of town buyers who wish to visit their property on occasions but wish to rent it out at other times, so making a long-term rental impractical.
e. Owners who come direct to the Real Estate Agencies wishing to rent their property
With expensive shopfronts and years of branding, established real estate brands will receive direct client enquiries to rent out properties. Each such enquiry is another opportunity.
4.
Villa Secrets Publishing
a. Prime African Properties – Mandate & Management Opportunities
As the first Coffee Table Book is a Pan African experience featuring many fine villas across the content; and as it will be sent to hundreds of targets for future publications, it is entirely possible that some recipients will wish to see what Villa Secrets and prestige marketing can do for their property. Sometimes this deal may be a straight mandate deal; and other times, a deal with Villa Secrets Ltd UK to create their own Villa Secrets company (per Chapter 8).
Either way, as many of these companies are businesses, the opportunity to sell the property arises. Should the primary network owner be interested in the Pan African options, they will receive many international mandate opportunities for both rentals and sale.
More on this in the coming section Experience Africa.
b. Prestige Placement and Branding
Alongside the door to door distribution mentioned previously, the Villa Secrets Coffee Table Book will be placed in many restaurants, hotel lounges, and waiting rooms for accountants and lawyers and other such professionals. As the property owners read the books, mandate opportunities can arise.
c. Buzz
In both Cape Town and across the world, we will distribute over 1,000 books locally and internationally to the leading real estate and vacations rental companies. We know from our last distribution that this action creates a buzz that can mandate opportunities alongside booking and affiliate requests, plus sales enquiries.
5.
Prestige Marketing & Branding
a. Condé Nast Traveller & Other Publications
We have, in the past, gained mandate opportunities from small ads in Condé Nast Traveler, one can only assume this number will increase given bigger adds and pages of advertorial.
b. Villa Secrets Film, TV, & Video
One thing villa owners like to share are videos of their properties, which are particularly useful if they have friends who also have properties. Plus, a good video can get a lot of shares on social networks and YouTube.
Taking it up a notch and the ambition to create a broadcast TV series on luxury villas in Africa; if this gets aired and in particular in the locations we are in, it will become a monster mandate recruiting platform.
c. Public Relations (PR)
PR comes in the form of:
c.i. Sending marketing materials including test shoots to luxury brands, for them to shoot their adverts, or to advertise in our publications.
c.ii. Sending marketing materials to magazines and other media companies in the form of original articles, snippets, and videos for them to display or show.
c.iii. Intimate events at the property with a guest list no more than 50, of whom villa owners who are in our sights but have not yet committed will be invited.
Any of the above can trigger a mandate opportunity and/or help to get property managers and villa owners past the finish line.
d. Awards Platforms
Before we begin, a note to say, we did not decide to make awards for personal gain. The idea was created by the poor quality and obvious bias of other awards such as Safari Awards website. Where for the top 20 most popular safaris on the planet, only one was mentioned in their 70 odd different awards.
Villa Secrets sister company, the not for profit 'Experience Africa,' is creating its own awards, based on a much fairer system.
Good intentions aside, creating legitimate awards websites/brands will, without doubt, see a lot of quality villa owners and managers approach us for representation, each one a mandate opportunity.
Awards categories/websites to be created including:
ArchitectAwards.org, SafariAwards.org, GlobalVillaAwards.com, WorldVillaAwards.org, AfricanVillaAwards.com, AfricanVillaAwards.org, AfricanSafariAwards.com, Top10Safari.com, AfricanSafari.Reviews, and LuxuryVillas.Review
6.
Concierge & Hospitality
As is described in Chapter 12, we are seeking charismatic concierge management and staff sourced mostly from the film industry, with the team working on creating film & videos and other media content when not on concierge duties (which is about half the time).
All concierge staff have the opportunity to recruit mandates, and as they will be invited to parties and events that most would not be invited to, they are bound to run into villa owners from time to time. And much like real estate agents, they are incentivised by 25% of the mandate income if they can bring the mandate home. However, 50% of their income is shared between the department. But even so, it's quite possible for a concierge employee to make much more from recruiting mandates than they do from salary alone.
Equally, if a guest was to buy a property, one of the first places they would look for representation is the company that provided the exemplary concierge service; and as we mentioned earlier, concierge will lightly present the idea of buying a property to each guest.
7.
Deals with Property Managers
There are various opportunities created by our property management initiatives…
a. Chapter Eight – Manager & Owners deals
In Chapter 8, we present a unique and beneficial initiative to create S-Web framework websites alongside S-World software opportunities for Managers and Owners of elite properties. Properties that already have their own well-established reservations and management systems who would not be interested in signing a mandate.
So far, in conversations with 3 such properties: Cousine Island, & Beyond, and North Island; all are interested in seeing the product when its complete.
The basic deal is that, by using our systems, such properties can make bookings for other villas when they are full and can use our systems to provide multi leg options for their clients, turning each company into a small bespoke luxury tour operator.
Whilst this does not bring mandates in directly, it is a critical part of encouraging jet set clients to book. And it has indirect rental mandate opportunities when such companies ask us to add lesser known platinum and diamond class properties to our portfolio, each such property is a rental mandate opportunity.
Plus, in creating such a network for rental properties, we also create a network of properties for sale. The objective here is to join with Experience Africa to create the ultimate portfolio of platinum and diamond class villas, safaris, and private islands for sale. Not specifically on sole mandates, but rather just all the properties for sale in one place, seeking to become the industry standard. And as always, the sales will be done by the Villa Secrets primary network real estate agents; albeit the precise structure across Africa is still under consideration.
b. Mergers
The Villa Secrets Cape Town primary network opportunity comes with eight options for merger websites (at an additional cost), in addition to their original 9 plus S-Web websites.
A merger is when a property management company already has a small rental business alongside their property management business, which makes a residual income. The deal with such companies would be to create a merger of sorts where the property management and property management fees stay in the hands of the company owner, but the rentals side of the company is merged into a new Villa Secrets affiliate company which provides a full S-Web website and gives access to all systems.
In such a case, the property manager receives the 25% of mandate commission incentive previously mentioned for real estate agents; plus, they will be seen first in the list of Villa Secrets property managers, so enabling them to acquire more properties to manage. Plus, of course, they will share in the income from the rentals.
And like all such initiatives, prestige marketing will see most owners use the Villa Secrets affiliate real estate company for the sales.
8.
Other Mergers
Continuing on from the point above, there are many other merger opportunities. In particular existing villa rental agencies, most of whom have a few mandates.
Across the world, Airbnb has put pressure on every villa rental agency. In 2015, the CEO of a leading Asian vacation rentals company informed us that a great many small vacations rental companies were going in trouble and looking to sell.
Villa Secrets offers an alternative, by adding what would cost them Millions of dollars in websites and systems, such business can turn around. Instead of bringing in an investor and being left with 50% of their business, a deal with Villa Secrets costs just 12.5%. And for that 12.5%, they get a tonne of technology and systems. Such mergers can also be made by the Primary Network. In fact, it is a quality of the Primary Network that only they or Villa Secrets LTD UK can recruit mergers.
Vacation rental companies are just one example. We present over 25 different niches in Chapter 2, any of which could create a merger. Even real estate agents could become merger targets.
The more mergers created, the more mandates will be held by the network, and the more sale mandate opportunities will arise.
9.
Passive Income
Passive income is when someone simply introduces villas to any Villa Secrets company. In short, people who know people; this could be an architect, a property developer or just someone who knows people who own luxury properties.
In this case, they will receive the 25% of mandate commission incentive previously mentioned for real estate agents and property managers. And again, due to prestige marketing and the estate agent's marketing pack, the primary network wins the sales mandate.
10.
Apartment or Resort Development Contracts
Gaining the contract for rentals from a new block of luxury apartments would be a big deal and could bring 10 or more (and sometimes a lot more) rental mandates.
This is of course a specialist discipline, but within our sister macroeconomic project 'M-Systems' (www.AngelTheory.org) is the mother of all property developments plans. And because of this, we shall have the ear of property and resort developers.
The exact mechanism for such a deal may change from deal to deal. Some may wish to create their own Villa Secrets companies for rentals, some will give the opportunity and receive the 25% of mandate commission to an existing Villa Secrets company, and often choose the primary network.
11.
Villas Cloud

– Property Management Systems (PMSs)

The Villas Cloud is described in limited detail in Chapter 5. The reason for the limited detail is due to politics. Our current objective is to connect to many PMSs (property management systems) such as MyBookingPal, Kigo, and NightsBridge.

In tandem, we also intend to greatly improve upon our original 2005 PMS (which was one of the first such systems in the world.) However, we know from MyBookingPal that some of the larger PMSs (maybe HomeAway or Airbnb) will not give access to their inventory if the company has a rival PMS system.

As a result, we need to create such a system as a different company, with mostly different owners. And we are considering collaborating with existing PMSs like MyBookingPal, Real Page, Vacation Roost, Illusions Online, or even HomeAway or Airbnb.

The politics and company ownership aside, owning a successful PMS and channel distribution system is an outstanding way to gain property mandates. One can literally create hundreds of opportunities each year.
12.
Safari

and other Luxury Accommodations

With over 4000 safari lodges in Africa, the safari sales market must be strong. But there is no company that champions this.

More on this in the conclusion to this chapter, 'Experience Africa.'
13. M-System 6 – The Theory of Every Business & Grand Networks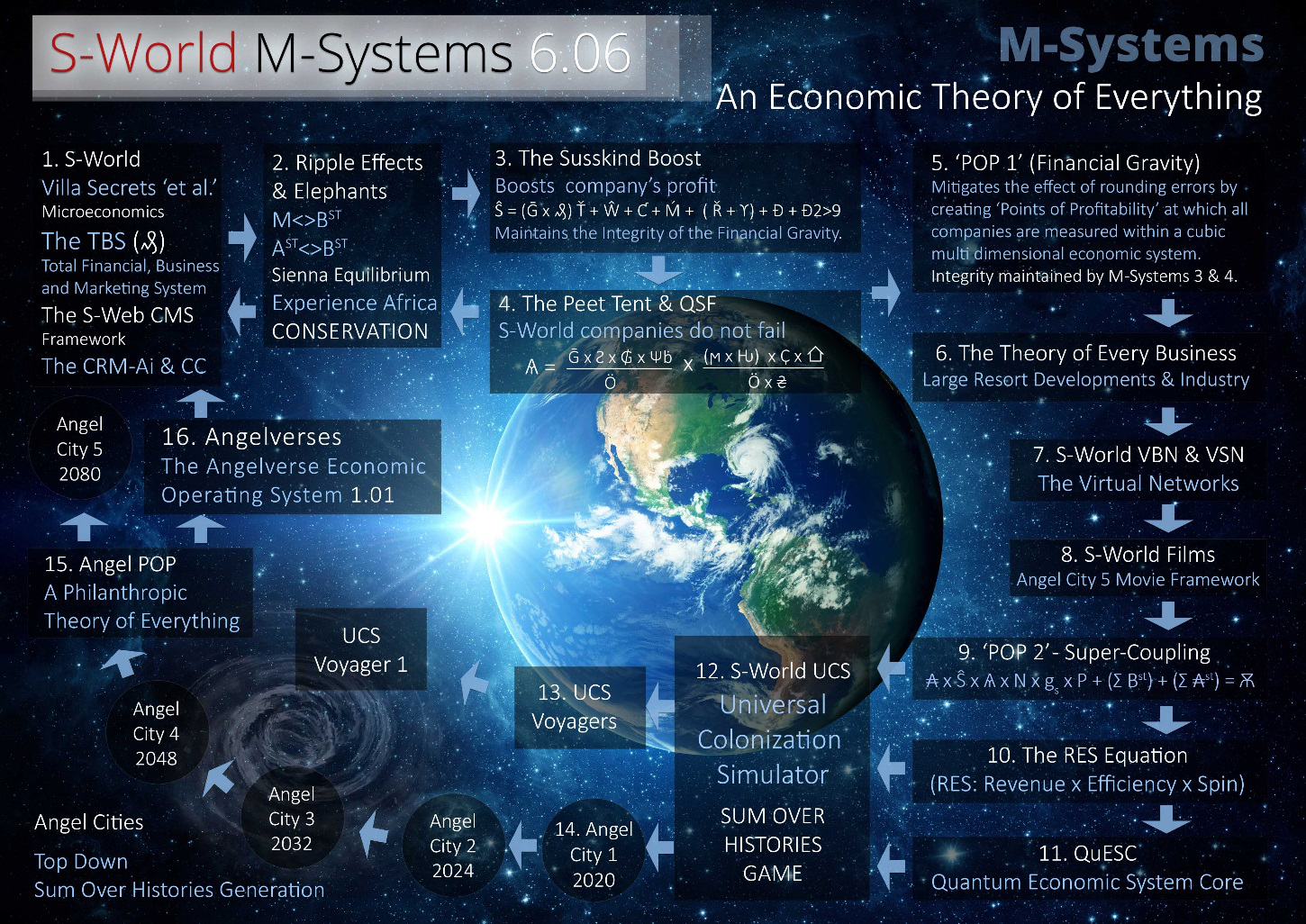 Above, we see M-Systems which is the advanced system design.
To put a scale to it, all the 25 chapters presented in The Villa Secrets' Secret are M-System 1, but there are 16 systems. Relevant to mandates is M-System 6. The Theory of Every Business, which is about creating large-scale resort developments. We shall only touch upon this point, as it is a long way from its launch. However, to see the 4 books written on the subject between 2011 and 2013, go to http://americanbutterfly.org.
American Butterfly is about networks, resort developments, and economic ripple effects; how one action could lead to another, and what could be accomplished in macroeconomics by working in this way.
Hence the name, American Butterfly:
American – The World's Biggest Economy
and
Butterfly – The Butterfly Effect applied to business and economics
A book about Global Economic Ripple Effects initially created in the USA.
Instead of looking at individual companies, American Butterfly and the first book in the series 'The Theory of Every Business' look at what can be achieved when the Villa Secrets network is of sufficient mass to promote a large-scale resort development.
After creating American Butterfly, this work split in 2 different directions…
1. It created the Villa Secrets Network and…
2. It created Angel Theory's M-Systems www.AngelTheory.org, the name for which will be explained in the concluding Experience Africa chapter. The result is that various investment pays for the creation of combined resort developments and S-World operations centres; and due to the mass of ripple effects and in particular good jobs, we desire to create very desirable resort developments which only the Villa Secrets Primary Networks will be able to sell.
And current thinking is to make the commission high, maybe 7.5%.
For instance, there is a nice plot of 214 acres of beachfront land in Santa Barbra on the market which would be perfect for a small and extremely excusive Stefan Antoni designed resort development, marketed by S-World and Villa Secrets, and sold by Villa Secrets primary networks. However, plans also include larger developments.
14. M-System 7. S-World Virtual Network
Long before American Butterfly's the Theory of Every Business and its resort development plans, and before even CapeVillas.com became the world's first virtual tour made using Adobe Flash. Unfortunately, the original is no longer online. But in its day, it was a winner. And in 2004, in collaboration with the South African royalty and Galileo GDS, we were close to creating a global virtual network showing both locations and properties.
The Lonely Planet linked to our original design and it was even offered its own digital TV channel. And whilst it eventually came to nothing, the idea of how to market a Virtual World was probably first thought of by us. Nowadays, virtual technology is everywhere but still there is no virtual world product that mirrors the real world. And that's what S-World Virtual Network is all about. And amongst the first locations we would render would be Cape Town, and with it a whole new way to see, book or buy property. Creating sole mandates as well as booking and sale opportunities, as we create superior renderings of our client's properties in a product that is designed to be a global phenomenon.
This project desires collaboration between all of Google, Microsoft, Facebook, and Twitter; all of whom will be approached in time via their philanthropic foundations. And whilst the idea of a virtual world is as big concept, the prototype creation may well get underway in 2018.
Part 5. Luxury Villa Rental Agencies –
Scenario 7
(Chapter 19)
Before moving to Experience Africa, a word on our financial forecasting 'Scenario 7' from chapter 19 'Luxury Villa Rental Agencies,' and our claim to underestimate and over deliver.
In just the first of the 28 different ways that Villa Secrets and the primary network can attract mandates, we gave an extremely well-researched forecast of 27 mandate opportunities.
For the sake of simplicity, when we add all the other 27 different ways to create mandate opportunities, let's say we will expect at least 70 opportunities. And of these 70 opportunities lets again err on the cautious side and say 24 ends up as sole rental mandates, and many of the rest end up as preferential STO deals with future mandate prospects.

Previous Scenarios
http://network.villasecrets.com/forecasts-and-scenarios/cape-town-3
http://network.villasecrets.com/forecasts-and-scenarios/cape-town-4
http://network.villasecrets.com/forecasts-and-scenarios/cape-town-5
http://network.villasecrets.com/forecasts-and-scenarios/cape-town-6
Villa Secrets Scenario 7 is a spreadsheet system containing over 1000 variables. Of which, if we do not have historical stats, we always underestimate income and overestimate expenses. It is due to become a dedicated forecasting program within the CRM-CC™ and M-Systems™.
This is not the correct place to present Scenario 7, as it has already been explained in the last section within Chapter 1 (or if that chapter is updated, see 'Challenger Technology Pitch') or ask for Chapter 19.
To sum up in just two points, in Phase 2 from villa rentals alone, the primary network should expect to make R14 million / $1. 1million in shareholder digressionary cash flow, of which 50% is returned to the real estate agent who seized the primary network opportunity as profit (with the balance distributed between the stakeholders and personnel).
In Scenario 2, which is set for 2019 but could go into 2020, we work on the principle that if running for two years (at the beginning of the second year), the primary network has 7 mandates rising to 12 by the end, which accounts for 60% of all rental income.
Here we can clearly see the gross underestimate in the number of mandates, 12 by the end of year two, whereas the already cautious estimate in this chapter was 24 a year, so making 48 mandates.
If instead of 12 mandates there were 48, the profit would more than triple, returning well over $1 million a year from an initial investment of only $168,000, which to ease risk aversions requires but a $42,000 deposit.
Part 5.

Experience Africa

Experience Africa is the conservation sister project to Villa Secrets. It was initially created in 2009 in reaction to Bulgari wishing to be lead sponsor of our Cape Villas magazine distributed by Condé Nast Traveller. For our next publication, we wish to go Pan African and to include safaris and other luxury accommodations. The website, created in 2010, was the one duplicated for Sotheby's Realty Cape Town which created the idea of Villa Secrets; but not one duplicate… instead thousands.
However, the website was unstable and this story is told in dramatic fashion here:
http://network.villasecrets.com/the-secret/ch1/the-s-web-cms-framework-01#step-4-emotional-impact. So, it was eventually scrapped.

Experience Africa then surfaced again as the conclusion to the 4th American Butterfly book, http://americanbutterfly.org/pt4/the-butterfly/diary-entries-2-experience-africa; albeit not as a booking platform, but instead as an extension to the resort developments. However, whilst the current plan is very different, the main point is the same…it is to be a loss leader. Whatever money it makes after essential expenses must go to protect the Elephants, Rhino, Cheetah, and other endangered animals.
Experience Africa resurfaced as the sister project to Villa Secrets towards the end of 2015, and a lot of research went into various aspects; in particular its Awards and CMS systems, and the duplications of the macro Villa Secrets plan within the safari sector.
At first, we started with this idea www.experienceafrica.com/experience-africa-2015, which was eventually updated in 2016 with http://www.experienceafrica.com/angel-theory-chapters/chapter-1
http://www.experienceafrica.com/angel-theory-chapters/chapter-2/systems
http://www.experienceafrica.com/angel-theory-chapters/chapter-3/pr.
Another view point is http://network.villasecrets.com/villa-secrets-africa-network/experience-africa-v5, which includes various videos made in 2015.
Now, Experience Africa is being created as M-System 2. 'Ripple Effects & Elephants'

To sum up, Experience Africa works on 2 fronts, both made possible only due to its free usage of all S-Web and S-World systems.
1. Like Villa Secrets, it wishes to create tens, then hundreds, then thousands of tour operator sites; some charities that we hope will be able to take advantage of Google Grants and receive $10,000 in free ads each month and some standard business.
However, the condition of use for the licencing is not 12.5% of gross profit (which we must point out is the equivalent to a low 2.5% franchisee fee), but rather that 50% of all commission or other profit must go directly to conservation via an approved S-World organization. And note that due to such initiatives, we will (in most cases) be able to achieve better commissions in the first place and for a thousand other reasons; even when giving 50% away, the opportunities are still great money makers.
2. The second front is creating systems for the safaris themselves, using all technologies and all staffing systems. In this case, the safaris themselves pay S-World approved conservation companies and initiatives; 75% and 25% is paid towards commissions for sales persons and promotional expenses, such as the making of quality films and videos.
The exact final structure is not 100% complete but it will be something like 2.5% of turnover to
use the systems. Then, for each 10% increase in turnover, gross profit or real profit achieved; the safari pays 2% more to S-World approved conservation companies and initiatives. Seeking to increase the safaris income by 50% and generate 12.5% of their turnover to S-World approved conservation companies and initiatives.
If this can be done, then the following can be achieved if we get half the safaris to use our systems (and note that currently there is no system for safaris).
Average safari price $200 per person, ($400 per room) (R)
Average amount of rooms 7 (#)
Occupancy equivalent to being fully booked for 150 days (O)
R x # x O = $420,000 per Safari
x Number of Safaris = +/- 4,000 (S)
x 50% enrolment = 2,000 (E)
(R x # x O) x (S x E) = $840,000,000
Licence Fee = 12.5% (amount) (L)
(R x # x O) x (S x E) x L = $105,000,000 given to fighting the poachers and breeding programs
$105,000,000 each year
Which is why we push so hard, and why we hope Paul G Allen and others will become advocates of this project.




What this means for real estate agents is that we have our eyes on complete systems integration with over 2000 different safaris, which will for sure include a sale option. And as always, 'only the real estate agents who take the African primary network opportunities can do the sales.' The one proviso of course being that 50% of the commission needs to be donated to an S-World approved conservation company or initiative.
However, as the cost to buy a safari is expensive and there may be a huge exclusive marketplace, it definitely wants a horse in that race.
Plus, of course, it's good to give back from both a moral perspective and a branding perspective as we will seek to gain maximum publicity from each initiative, and companies' websites will be full of thankyou's from various organization who received the donations.
Unlike most philanthropic organizations, S-World will seek to maximize all PR opportunities arising from its charitable deeds; as such, PR is one of many ripple effects that makes the systems possible in the first place.

6. Post Script. Ripple Effects
& Elephants.
For the latest on Experience Africa and other conservation, ecological and philanthropic projects first see the 'Angel Theory' ambition at this link. www.AngelTheory.org/book1-4/an-ecological-and-philanthropic-theory-everything-plus-space
Then see how all 16 projects are started and a further 10 added as a consequence (as a ripple effect) of the Lake Malawi Grand Network, as told in Angel Theory – Paradigm Shift, books 2 Part 2. 'A More Creative Capitalism' and book 3. The GDP Game – African Butterfly.'
www.AngelTheory.org/book3-14/Ripple-Effects-and-Elephants-for-paul-g-allen
www.AngelTheory.org