Chapter 6.

S-World CRM-AI™ Agent's Assistant and Automated Booking System

Automates the booking process, created to make one person perform the job of two in half the time with twice the efficiency, removes the need for agents to have experience & and allows agents to easily answer enquiries on the road or outside of work hours.

Index
Chapter 6.

S-World CRM-AI ™ Agents APP

Chapter 6a. Key Challenges & Unique Solutions
Identify Problem /Present Missed Opportunities / Avoid potential Landmines
1. Agents typically work 9 to 5, whilst many customers from Europe and the USA enquire or would like to speak in the evenings or during weekends.
2. A star agent will often view the properties they see, attend viewing events, and network with the industry, so they are out of the office often even in the 9 to 5.
3. Due to the above, new agents, even if they are superb at sales, find it hard to get availability; as their knowledge of what stock is out there is limited to the company's database of villas and website.
4. Whilst nowadays many villas are on one booking system or another, there are still a lot of great options that are bespoke and require a phone call or an email to ascertain availability. This is a task often performed poorly, as agents may choose to contact a handful of such villas, but far from all options; and as the bespoke villas are not on the systems, they are more likely to be available and the owners are more likely to be flexible on price.
5. A good reply to a client can take an agent 15 to 30 minutes or an hour to prepare; and by that time, the client will (in all likelihood) have enquired with a number of competitors.
6. Given that, at any one point, an agent may have 20 different ongoing enquiries on the go at any one time; half of which should be addressed each day, there are simply not enough hours in the day; and every correspondence is written and researched in less time that is needed to really get it right.
7. Staff leaving for new jobs or to start their own business.
8. Staff doing 'outside deals' (making a deal for a villa they know and receiving the commission directly from the owner, and not declaring it to the company); whilst not quite qualifying as a landmine, as in my experience this happened rarely, this trait could cripple a small or new business. And this practice is so common that it even has its own name… 'Outside Deals.'
Is Unique Because…
1. S-World CRM-Ai ™ is created specifically for rental agents; it has removed all the unnecessary features that multi industry CRMs, such as Salesforce, offers and so is much simpler. The S-World CRM-Ai ™ is created to be suitable for children over 7!!!
2. S-World CRM-Ai™ is the way an agent receives their enquiries, there is not a separate enquiry system, the CRM is the enquiry system.
3. S-World CRM-Nudge Ai™ automates the entire booking process and often will work without the agent's input; in particular, it will send a very attractive and well composed email to a recipient 5 minutes after their enquiry, so keeping the agent focused on your company, not looking for others.
4. As the S-World CRM-Nudge Ai™ does most of the heavy lifting, agents can work on the move from their cellphones, and as it reduces the time it takes to prepare a quality email reply to a few minutes, agents do not mind keeping the app on in the evenings and weekends.
5. S-World CRM-Nudge Ai™ is so useful that sales staff and networkers, become dependent on it, and so the idea of jumping ship to another firm, or starting their own firm is less likely.
6. S-World CRM-Nudge Ai™ can and will be converted to property sales and other travel items such as safaris, private islands, and resorts; allowing agents to become specially competent providers of such options, increasing the likelihood of becoming the provider for the entire trip not just the local villa hire.
7. Real Estate agents can use the system to send international enquirers both options on renting villas, booking hotels going on safari to their international clients; who in 99% of cases, will need to visit the locations before operating with money to buy a home.
By providing travel options and including articles from the magazines, agents can sell the client on coming to their location which (I would say) must increase the chance of making a sale from international enquiries exponentially.
8. The original component to the S-World CRM-Nudge Ai™, which added the 'Ai' to the system, was that the Ai can create automated responses from bespoke villa owners and safaris, where bespoke villa owner's availability is not on a system; and where safaris are spread across so many systems, it will take years to make all the connections.
Is a Solution to…
1. Rental agent's inexperience.
2. Rental agents receiving enquiries while away from their desks or out of work hours.
3. Immediate and consistent replies to clients.
4. Rental agents not following up on all ongoing enquiries.
5. Rental agents not replying to 'big enquiries' at the weekend or in the evening, and so decreasing the chance of a booking dramatically.
6. Having agents at all.
7. Training agents.
8. Monitoring agents.
Chapter 6b. S-World CRM-Nudge Ai ™ Villa Rentals Assisted AI Demo

Welcome to the S-World CRM Nudge Ai integrated behavioral economic CRM and AI system, packed with more unique selling points than I've had hot dinners, created to make one person perform the job of two in half the time with twice the efficiency.
In fact, half the time is a gross underestimate; as if one pretty much leaves the enquiry process to the AI and only has a hand in villa selection, it takes less than a minute to create a very detailed highly professional reply. However, like our other systems, this simplicity of use is only created by incredibly complex back end functionality.
To create this CRM-Nudge Ai ™ App design, we are working 'Mobile First', as it is simple to convert a mobile design to desktop but hard to convert a desktop design to an app, not in a way that makes a difference.
The S-World CRM Nudge Ai is built on top of our completely unique S-Web CDS ™ (Content Delivery System). If you have not yet seen this system, see Chapter 4. S-Web CDS™ Content Delivery System – Chapter 4e. My List / My Magazine / My Webpage and follow the demo to see how, in just one minute, one can create their own webpage (a webpage that would take days to create in a CMS such as WordPress) or create a magazine article in less time still.
S-World™ and S-Web™ focus on simplicity and lightning speed. We see a process that takes hours or days and we find ways to spectacularly speed up the process. In this demonstration, we are looking at the enquiry process of renting a villa, but the system could as easily be for selling a home or booking a safari, private island or luxury resort; or for that matter, yachts, jets, or other such luxury items.
One big fat reason the S-World CRM is superior is the Nudge Ai. Basically, we are creating a system that does not need human interaction and so core reps in Live Chat or in call centres (who have no knowledge of any of the products) can do a great job on their own. And seasoned star reps can do the job of three staff members in half the time. And further, as reps get used to or even dependent on these systems, it makes for less staff turnover keeping your star reps in place.
Chapter 5C. Nudge Ai – 2018 Insert
Since writing this book in the first half of 2017, I followed up with 7 complimentary books in Angel Theory – Volume 1. Paradigm Shift. Whilst researching Books 2 and 3, 'I came across the work of 2017 Nobel winning economist Richard Thaler and read his book, 'Misbehaving: The Making of Behavioral Economics' and I am currently ready his previous book 'Nudge: Improving Decisions about Health, Wealth, and Happiness.'

Behavioral economics will become entangled with the CRM Ai, hence I have rebranded the CRM Ai as the CRM-Nudge Ai after the concept and book by Thaler; and significant equity will be offered in Villa Secrets USA and The TBS™ Total Business Systems for Thaler and other's assistance with the projects.
Unlike macroeconomics, which principle deals with governments and GDP Accounting; behavioural economics, when practiced in sales, can also be described as the science and psychology of selling.
This book, 'The Villa Secrets' Secret,' marked my journey into behavioural economics; as it was written whilst researching David Hoffeld's 'The Science of Selling: Proven Strategies to Make Your Pitch, Influence Decisions, and Close the Deal.'
Hoffeld is a behavioural economist and quotes Thaler in his work and vice versa, Thaler mentions Hoffield in his work.
There were a few places where I was a little stuck with the plan for the 'now named' CRM-Nudge Ai. For instance, how long should an email be? Some say very short, but some say detail is everything. This problem has now been considered; and with the aid of Hoffield and Thaler, it would seem prudent to do both. The system (or an agent using the system) can, within 10 seconds of the enquiry, send a super short reply that would work great on mobile like this.
Dear
Mr Forrest

,
Thank you for your enquiry, please follow this link
Now I do not, in any way, claim to be good as a copywriter. But that's the great thing, I don't have to. Once the system is created, it's up to the behavioural economist to choose the actual wording. And here's the rub, as we have a network that will soon have hundreds of different businesses and websites, it's the perfect hunting ground for experimental behavioural economists to use different wordings in 10 different control groups and see which wins the day. And a number of complex rules will be created to nudge the client nearer and nearer to us. For instance, we can tell whether an enquiry was made on mobile, tablet or laptop, and can send different emails depending on which device was used.
We will later see my 2017 preferred S-Web email from template and it's long; and in part, it's long because we had a lot of great stuff to show and questions to ask, but I knew it was probably too long. However, via experiments continually from behavioural economics, we will turn the CRM-Nudge Ai into such a sales tool that it dramatically increases performance and revenue.
Even down to the order of button options that we see next, and how best to make the system for agents and users alike.
End of insert.
Chapter 5d. Menus and Controls
At the top left, we have a main menu (the 3 stripes) which will link to many page options. On the right, a second menu (3 dots) for mandatory tasks such as logging in and links to other systems or website pages. In addition is a key word search.
However, the objective is to make the system without need for the main menu or search, the functionality of a desk top application with the sort of ease of use you would find in a mobile game.
To create this functionality and avoid the need for having to scroll the main menu, we create a (on page) navigation system. Starting with the '3 main options,' these options will be specific to the user type; and for vacation rentals, it is 'Home | Search | List.'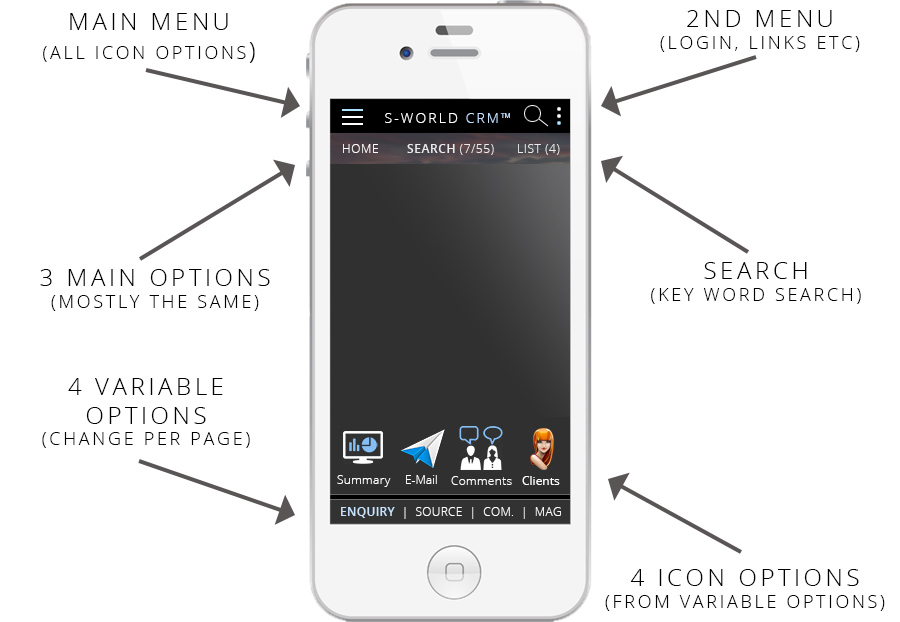 To complement the 3 main (top navigation) options, comes the bottom navigation stripe, which changes for different pages. In this example, the user has the option to check the 'enquiry details,' 'the source of property' (system/bespoke), 'to display/adjust commission,' and the user's 'My Magazine' options.
In this example, the user has clicked 'Enquiry' and this creates 4 new icons: 'a general summary,' 'the email,' 'new comments,' and 'client's client' options. If one now clicks the clients option, three sub options would be displayed in place of the other 3 icons. All told, creating 48 different 'quick tap' options available for each individual page.
Chapter 6e. Home Page & New Enquiry
Ok, now we start the enquiry journey; and for this example, we are working on the principle that the sales person is not in the office (maybe viewing a villa, it's in the evening, or the weekend).
On the left, we see the 'screen saver' and this is how the phone will look when inactive. The idea for this and for all pages is that we create not just a great tool but a great experience. We want users to not only use the CRM for their work but for it to become an operating system of sorts, from which all other apps and functions the phone has can be accessed and integrated.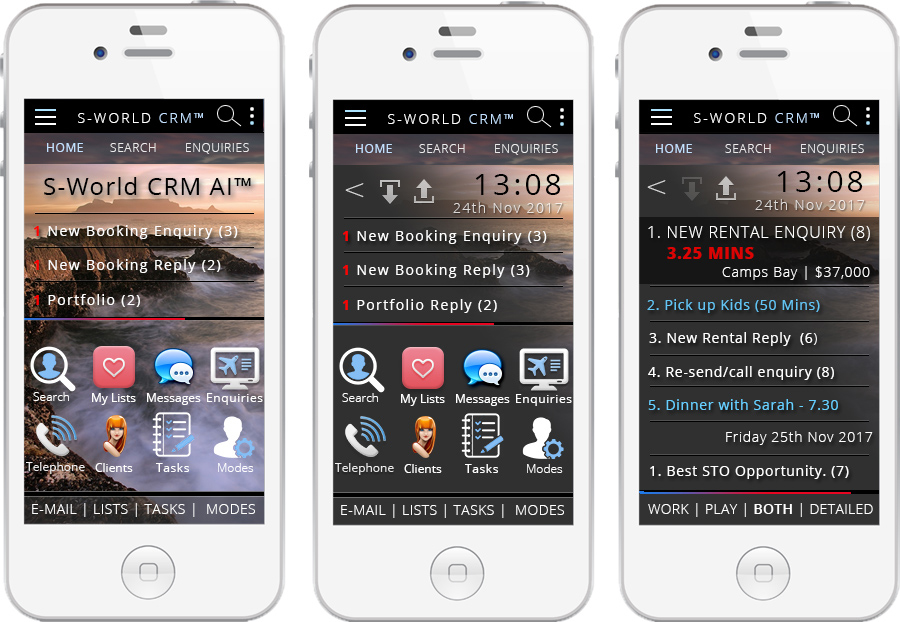 As soon as the phone screen is touched, the dark mask appears, and we see that the phone is split into the most important communications at the top, and user icons at the bottom. One navigates this page by the up and down options to the left of the time. Up will show all icons, as seen on the first phone in the previous graphic; and down makes the page show only messages and tasks, as seen on the right-hand phone.
At the top of this right-hand phone, we see a new 'priority 8' enquiry has just come in, and the App has made a ringing noise, until it was answered. We see the timer in red shows 3.25 minutes, this is the time until the Ai automatically send the enquiry, or until is assigned to Live Chat operators. Note also the text in blue, in this case, the user is using the CRM to keep track of their appointments as well as work data. As is desired, the more the agents use the app, the better they will perform and the less likely they are to ever jump ship.
(Note that the blue and red line is an indication of workload, if an agent has too high a workload, enquires may be sent to other agents.)
Chapter 6f. Search Results Page – part 1
Having received the new important enquiry, the sales agent clicks the 'search 7/55' option and sees the very basic information from the Ai, being that the search is 77% complete, that there are 7 villas available to 'book now' and 55 bespoke options that may or may not be available.
And just a note that the ability to make one's enquiries part of the CRM is very important and is not a standard feature of any mainstream CRM. This task is important as it gets agents stuck in old habits to use the CRM in the first place, as this is how they receive the enquires.
The Search at 77% indicates that there is enough data provided by the client, and villas are available to book online. Although there are a few items that need further clarification.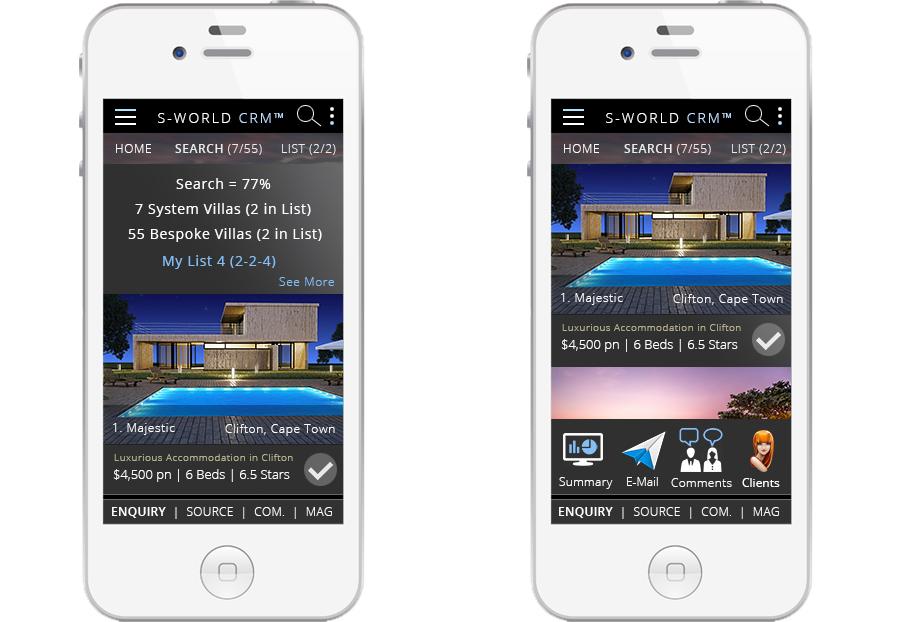 Before we look at the My List 4 (2-2-4), a note on villa lists; each location requires a portfolio manager, whose job is to create and continue to improve a master list of villas. So that when one filters, one is left with villas in the order that the portfolio manager thinks are best. Or an alternate version of this list is made by each booking agent, putting their favourites at the top.
The My List (2-2-4) is the function that experienced and new agents will really love. This is the format of the email that will be sent; and in many cases, all the agent has to do is go to 'List' option check the order of the villas and press send, everything else can be handled by the Ai.
Lastly, on the second picture, the agent has clicked the Enquiry tab (at the bottom) to have a look at the specifics of the enquiry, should they wish.
Chapter 6g. Search Results Page – Part 2
This set of pages is for the average agent and this is the first place where they will start. In the first picture, we see the villas presented in almost the exact same way we do on Villa Secrets mobile, with the exception of the 'add to list' button (the tick) being a bit more pronounced.
Searching first through the 7 villas that are available to book online, sourced from various property management systems, the system has set itself to pick two. But it may not pick the top two, depending on the price entered by the client. If there is a big difference between low and high, or if there is no price set, it will seek to offer a higher priced villa, a mid-range, and a lower priced villa. In this example, in the middle, we see that the system has not chosen the second villa.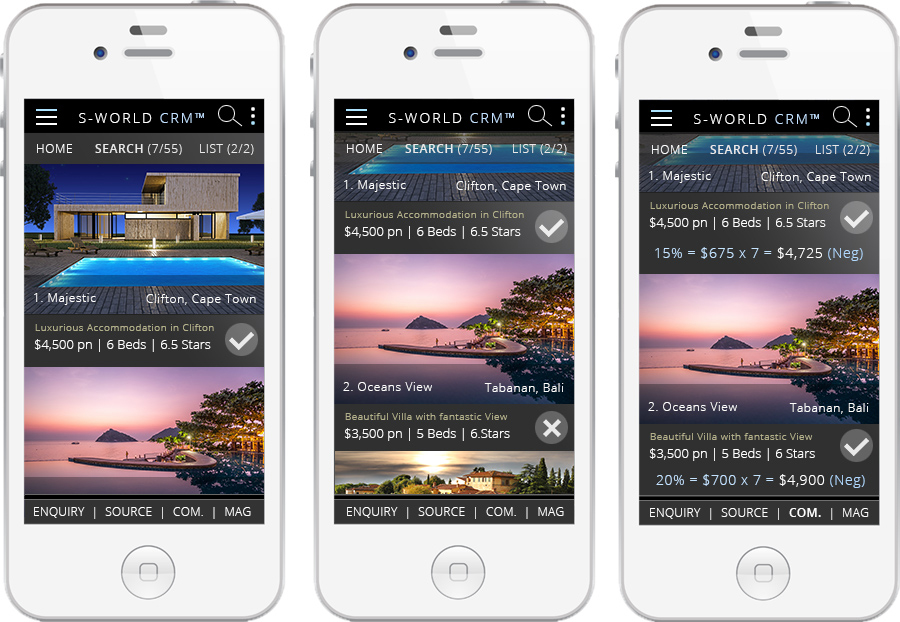 Here is where the agent has the choice to now include that second villa by clicking the 'x' option.
On the right-hand picture, the agent has chosen to display the commission by tapping the 'Com.' Option, and we can see it displayed as commission percentage (20%) = $700 x 7 nights = $4,900; which is higher than the top option even though the villa price is less, due to the top option only being 15%.
For any agent or any company seeking to create the maximum yield, this is very useful data. However, currently, the system itself is set to offer the best options, not just the ones with the highest commission. The CRM-Nudge Ai shall factor for commission, but it would not be the only factor, rather it will be one of a few variables.
5g. Edit My List
To edit the order of the villas made from the search in the graphic below picture one, we use the top menu 'List' option. Then by clicking 'Order' from the bottom navigation, we see numbers 1 to 7 appear; and by clicking a number, the villa will move to that position in the list.
Clicking the 'Order' option again (or double tapping) changes the view to the one seen in the middle picture. In this case, showing all 7 system villas. But equally, by clicking 'Display,' one can change from 7 system villas to the 55 bespoke villas. From this view, one can drag and drop the villas into a new order simply by touching a villa with a finger and moving it around, or up and down the screen.
Note that also on screen 2, we can see that in position 3 and 6, are villas that cost less but make more commission; or in the case of 6, much more commission; either as they are on sale, in low season, or the owner has chosen a high STO discount strategy. In the cases of villas 3 and 6, a 50% STO (discount) is offered. Usually we would expect the agent to pass some or most of the discount to the customer but not always, depends on the option the owner/manager chose when making the mandate.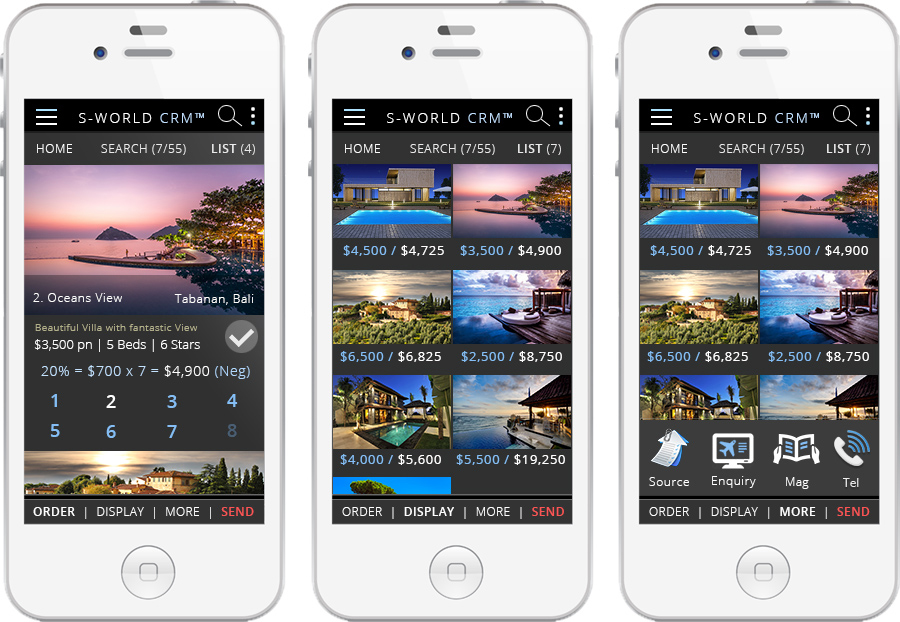 On the right-hand phone, we can see the user has clicked the bottom navigation 'More' option, which gives the option to browse through and select relevant magazine articles to appear at the bottom of their communication. We have already demonstrated in the S-Web CDS ™ that agents can create their own magazine articles in minutes and adding one or two articles about the location written by the agent can only increase the confidence of the client that the agent knows their stuff and helps inform and educate the client about the location, activities, and excursions.
Chapter 5h. Compose Email and Send – Part 1
Now, we come back to the compose feature, the 'The My List (2-2-4)' we saw presented at the beginning of 'Search Results Page – Part 1.'
The exact options will be the result of exhaustive behavioural economic study. It seems to make sense if the enquiry has come from a mobile, to first send the quick one liner saying something like.
'Dear Client,
Please follow this link to your client suite.'
Regards,
Krissy
There will be a be a number of options for the client to see and sort, and questions to answer. And if they engage, we know that they are active and there is no need for a longer email, and one communicates via the client suite. But if that email did not prompt a reply, a much more thorough and detailed email can be sent in the following way; starting with the email template, which is chosen via the options below, the dots in place of how many photos are in a row.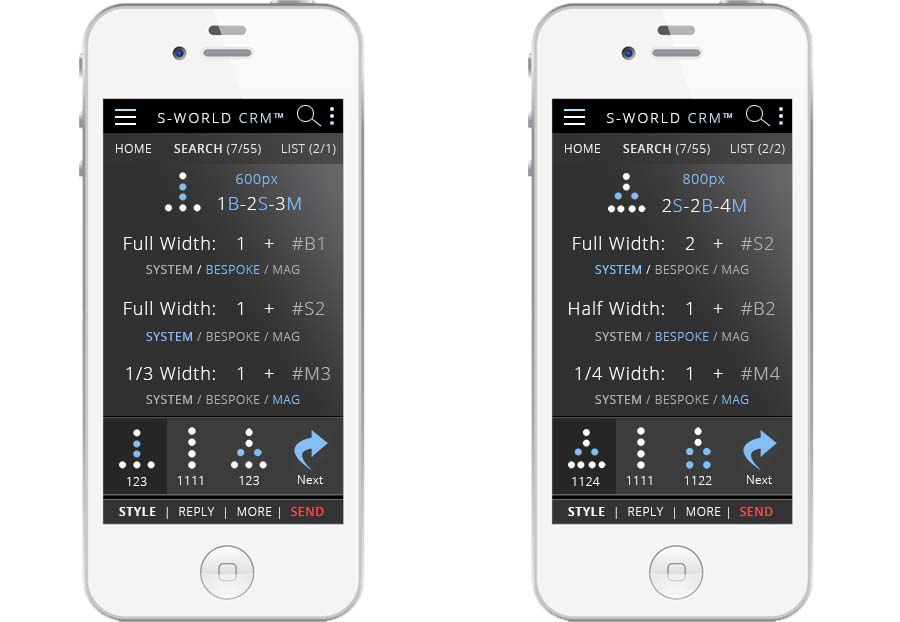 Choosing one of the above option decides the email template conditions, the default setting, the setting that will be sent by the Ai, or presented by call centre agents; will change according to the enquiry and the villas available.
What happens next depends on what properties are available and is definitely not a feature one would be able to get on any other CRM as we start to follow 'The Science of Selling' by David Hoffeld. Starting with 'how many properties should one send?'
Ideally, one should not just send one property, as neuroscience tells us that the brain does not like to have only one option, and two is better, or even better still is three; but with the third not as good as the first two, so focusing the brain to be surer about one of the first two options.
However, we will not blindly follow the science rather use it is a guide that we will experiment with and refine per analytics of results, over time, and more research. And it should always depend on the initial enquiry data and what villas are available. And note that in case the client is interested in quantity as well as quality, we add a link at the end of the villa presentation (before the magazine articles) that presents many more villas like this:
'For 26 more villa choices, follow this link.'
If the client requested one villa and it was available, and there are no other villas that are clearly superior (per attribute point scoring), the first reply would be just to present the villa in rich format, with a few photos, the main article text and relevant articles from the magazine. This seems to contradict the logic Hoffeld made, saying one is better than sending 2 options. But from my own experience, I've found that if a client has requested a specific villa and it's a good one, then it's best not to confuse the client by offering more options.
Note, however, it is rare for a client to choose and want to book a villa without a conversation.
And even if they do and there is a villa or villas that are in the same location that are superior at about the same price, then it is in the customer interest that we inform them of the better options.
But what if the client asks for one villa, and there are others that are equal to it, some having better scores for one attribute and worse for another? What helps in this scenario is a summary of how the client browsed the website and their favourites list. As if one can see that the client has spent some time assessing many options and only picked one, then one can be sure the client has already chosen well, and one should guide the client into the buying process. But if the client has spent little time looking at other options, then it would not hurt to present one or two alternatives and seek to home in on what the client's primary buying motives are by asking the right questions.
However, here comes a curve ball; as we have two types of availability: We have 'system villas' that we know the availability for and we have 'bespoke villas' that require an email or a phone call to the manager or owner.
At popular times of the year, especially for bookings within a few months, there will be a lot more 'bespoke villas' than 'system villas' (as all the system villas are booked and so will not display.)
If the client has chosen a 'bespoke villa,' the system will automatically email this villa. However, the chances of that email being instantly read and replied to are low. And as a reply of any kind is necessary within 5 minutes of the enquiry originating, often the first reply will need to start by telling the client that we are contacting the owner and to present options that are available in the meantime.
So for this example, we are assuming the villa that was requested is bespoke and had been auto emailed but had not yet received a response. In this example, for this enquiry, there are 7 villas available from the system and 55 bespoke villas.
And in this case, we may choose to send in 1-2-3 format, the requested bespoke villa first with a big photo with explanation that we are waiting on availability, followed by 2 big photos of the best 2 system villas; followed by 3 magazine articles in portrait format, side by side so as not to take up to much room and to differentiate them from villa options; in an email template that is 600px wide, left aligned to make it look like an email, not a newsletter.
However, the agent can choose to customize this in many ways, you can see the shortcuts below, and how the template are completely customizable from the 1-2-3 format to 1-1-1-1, to variations of 1-2-3 using smaller pictures for the middle section. Or by clicking the 'next' option, one changes from a 600px wide email template to an 800px wide format.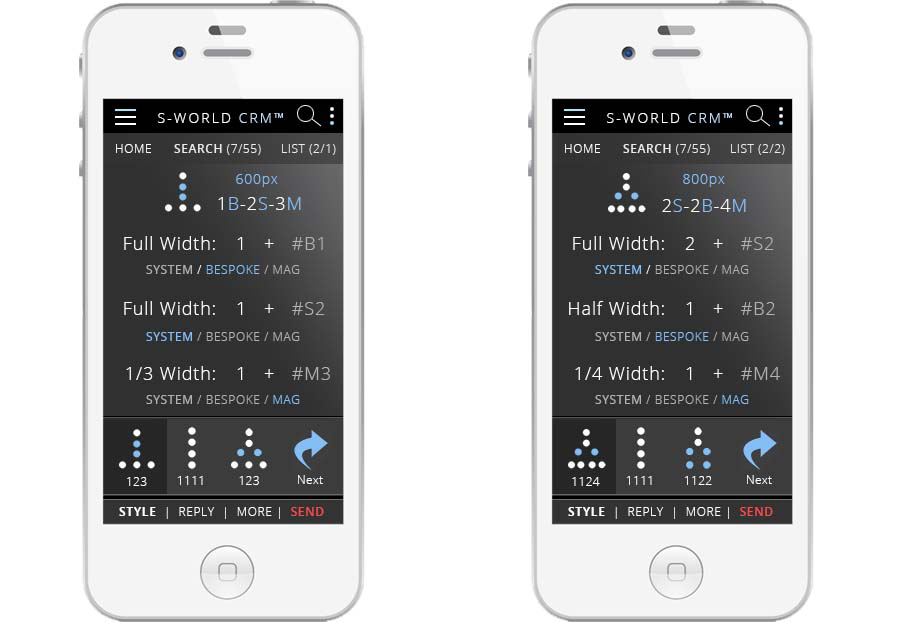 Once the formation is chosen, one can customise the number of rows of each set and easily change between system, bespoke or magazine articles.
Once one has chosen the style (format of the template), one continues by pressing the 'reply' option from the bottom menu.
And of course, in many cases, one will just have a few different styles set up for different clients; based on device used and villas available and can cut out this step altogether. But it is very useful to the behavioural economics (the science and phycology of sales) to be able to try many different formats and analyse the responses.
Chapter 5i. Ask 'Powerful' Questions
In this book, so far, alongside, I have used a bespoke version of the presentation methodology of The Challenger Sale, the bestselling book on B2B complex and bundled solution selling by Matthew Dixon & Brent Adamson; in which it is advised that questions should be replaced with well researched insight and teaching. And whilst this may well be correct in B2B complex and bundled solution selling, it's far from correct in B2C (business to customer). And particularly, in the niche luxury villa rentals, as the client is not looking for a solution to a problem, but rather is acting on a want or desire. Imagine going to a doctor and without asking any question, he/she just hands a prescription to you. You would not feel very good about things, and its equally true for travel and real estate.
In 'The Science of Selling' by David Hoffeld (which most of this section of the CRM-Nudge Ai chapter quotes and paraphrases), Hoffeld reveals that questions have such potency that behavioural scientists have found that by just asking people about their future decisions significantly influences those decisions, a phenomenon known as the Mere Measurement Effect. And that by asking questions, this helps to focus a customer or recipient on the point the question was about.
For instance, 'What colour is your house?'
Did you just think about the colour of your house? I sure did when Hoffeld asked this question whilst I listened to his audio book.
Because questions focus and guide the mind, you can use them to direct the sale as well. However, all questions are not created equal. Just asking a lot of questions will not make you more successful at selling, what matters is the quality of questions you ask.
The most effective way to construct high value questions is to mirror how the brain reveals information and ask questions in levels or layers that you need to peel off one layer at a time. There are 3 layers or levels of questions one can ask. Each level is based on the previous one; be it in 3 successive emails, or on the phone, or via other such instant messaging formats.
Level 1
Preliminary
Questions
First level questions are preliminary questions that open up a topic by revealing thoughts, facts, behaviours & situations. They are used to gain a basic undertaking of a subject and are the best questions to use when beginning conversations. However, whilst they are necessary, they are not enough, they must be used in combination with other levels of questions. Most sales people predominantly ask first level questions, and most CRMs if they offer a questions section at all, will mostly or only prompt 1st level questions.
These are questions that can be generated automatically by the CRM-Nudge Ai, in answer to enquiry data.
Here are some examples of preliminary questions: some in relationship to enquiry data, and some for the call centres to use to answer 1st contact telephone enquiries.
• Which of the villas presented do you prefer?
• Is this your first time visiting Cape Town?
• What is your budget for your accommodation?
• Is it important for you to be able to walk to the beach?
• When do you wish to arrive in Cape Town?
• Are you flexible on your dates?
• Are there any other services you require?
• Do you already have any villas in mind?
• What are the requirements you have established for your holiday?
• What is your process for deciding which property you will choose?
• How many other agencies are you considering?
• What is your timeframe for completing the booking process?
• When it comes to choosing a villa, who else is involved in the decision process?
• Are you aware that Camps Bay is often windy?
Level 2
Elaboration

Questions

Second level questions guide buyers in assessing and explaining 1st level responses. These questions are vital because they prompt prospective customers to think through a though fact, behaviour, or situation. These powerful questions have been analysed in numerous recent scientific studies. For instance, a study at Harvard University revealed that answering second level questions, which prompted participants to state their opinions, increased neural activity in the areas of the brain associated with reward and pleasure! These good feelings caused a change in the brain that naturally enhanced the participants emotional state. In other words, potential customers enjoy answering second level questions.

This tier of questions is linked to high levels of sales performance, because they guide you in obtaining an awareness of the beliefs that are shaping buyer's behaviours. Since these questions are based on how the brain naturally discloses information, formulating them will seem intuitive. For example, just ask customers to either assess or explain a first level response.

Here are some examples of 2nd level elaboration questions:

• Which of the villas presented did you prefer?

• Why did your group decide to go in that direction?

• Would you consider booking a villa that was not in Camps Bay?

• May I ask why did you chose that villa?

• Are the attributes 'Exclusive Location,' Children Friendly' & 'Private' your main criteria?

• It sounds like this is very important to you, may I ask why?

• If you could change one thing about this property, what would it be?

• Based on what we have discussed, does it make sense why so many clients are choosing to book within our network?

• Why is it important to solve this concern right away?

• Based on what we have discussed, does it make sense why property prices are higher in Clifton, compared to Camps Bay

• It sounds like Dreamtime is your favourite villa, may I ask why?

Of the above, different questions will be relevant to different situations, and the choice will be thinned out, showing the agent only the relevant questions relative to enquiry data. In addition, note that as customers have already answered several 1st level questions via the enquiry process itself. If one has enough enquiry data, one may go straight to 2nd layer questions, or combine the two. And the Nudge-Ai will help with this by prompting various questions, giving the choice of both 1st level and second level questions.

As mentioned before, if no agent or call centre agent has taken charge of the enquiry within 5 minutes, the Nudge-Ai will answer automatically. However, when it comes to replying to the reply from the Ai, it needs human action to process the client's responses into the system before more 2nd and 3rd level questions can be prompted.

Well….. er….. not if we get a supercomputer like IBM's Watson; as with the correct programming, it could answer and hold conversations with clients without them knowing they are talking to a computer. See here for a short video on how Watson won Jeopardy.

But for now… back to version 1.

These questions and the automated systems can greatly improve the usefulness of a call centre, as by following this process, they are increasing the clients disposition towards our company; leading either to direct booking from the call centre, or at the least by the time a local agent who knows the villas first hand becomes available; then a lightning fast response by the Ai and call centres, followed by questions that both teach the client something new, plus add to the wealth of insight gained via the questions entered into the CRM-Nudge Ai, which gives them a huge head start, in comparison to no action commencing since the enquiry.
At this point, is it more effective to work from desktop, as one can see more question prompts without scrolling, but it can be done by agents on their cellphones.

But before we look at some more screenshots, let's start to put together a set of 1st and 2nd tier questions.
Sales Person
Which of the villas I presented do you prefer?
Client
You now I like both of the first option you sent me, but the Dreamtime villa is my current favourite.
Sales Person
I appreciate that this is a very important decision, which feature or features about Dreamtime villa are most significant to you?
Client
Well, it really helps that it's a walk to the beach, but at the same time has a really great view. And in general, I just like the feel of it, it seems very spacious with a generous swimming pool.
The psychology here is that in thinking about and disclosing exactly what it is that they like about the villa, they are reinforcing their like of that villa. One needs to remember, one is not just competing against the other villa presented, but all other villas presented by all other companies. The more one can get a client to think about what they like about the villa presented by Villa Secrets, the more chances there are to win the day.
However, as insightful as second level questions are, there is still another level that penetrates even deeper. It is the most consequential of all the levels of questions because it addresses buyers on an emotional level. And when it is leveraged, it will often reveal information that will transform the entire sale.
Note by Nick Ray Ball (2017)
Currently, the use of level 3rd questions is under review. It makes a lot of sense when presented by David Hoffeld. However, for level 3 questions, he only gives examples of B2B (business to business) sales not B2C (business to customer), and it seems hard to transform the examples into every day villa-agent villa-client questions without seeming overly 'salesy.' That said, maybe that's the point. So, for now, the passage will remain; but will be reviewed as and when feedback on the chapter comes in, or if Hoffeld himself wished to contribute.
Level 3
Trust Questions
Third level questions excavate the final layer of information by guiding potential customers in thinking trough, and verbally disclosing their dominant buying motives. As explained in Chapter 24, dominant buying motives are the emotional reasons why potential customers would purchase your product or service. They are comprised of 2 potent behavioural stimulators: the desire for gain or the fear of loss.
However, that's not all 3rd level questions do; as buyers answer them, their feelings of trust towards you will increase. The very process of disclosing their emotional responses will enhance their trust, as they will feel you understand them. And this bond will separate you from your competitors.
Creating 3rd level questions involves asking potential clients to reveal something they fear losing or desire to gain. Here are some examples:
Note that these are the original questions from 'The Science of Selling' slightly adapted for Villa Secrets
• If we could reduce your cost as we have discussed, how would that positively affect your company's profitability?
Villa Secrets Version
If we could reduce your cost as we have discussed, how would that positively affect your groups decision?
• If the problem you have described is not resolved, how would it impact your organization's sales?
• This seems like a very important issue to you personally, may I ask what it would mean for you and those on your team if this issue is not resolved?
• If your end users were thoroughly trained and were using this platform effectively, how could that increase company productivity?
The following is the complete Level 1 to 3 questions in series, converted to Villa Secrets
Level 1
Sales Person
Which of the villas I presented do you prefer?
Client
You now I like both of the first options you sent me, but the Dreamtime villa is my current favourite.
Level 2
Sales Person
I appreciate that this is a very important decision, which feature or features about Dreamtime villa are most significant to you?
Client
Well, it really helps that it's a walk to the beach, and at the same time has a really great view. And in general, I just like the feel of it, it seems very spacious with a generous swimming pool.
Level 3
Sales Person
I hear that a lot from our clients who booked this property. And you're right, it does tick all the boxes, unobstructed ocean views, in a walk to beach position with a giant swimming pool. May I ask how would it affect your plans if we were to lose this villa to a booking from another agency?
Client
Well I'm not as pleased with any other options I have so far, this villa ticks all the boxes where others do not, so I would not be happy about it.
And that's where you ask the closing question.
Conclusion
Sales Person
Would you like to secure this villa? Shall I send you the paper work to look over?
Client
Sure, send it over.
Or alternatively, if one can make a 2 or 3-day option for a client, that's another way to go. That said, if the sale can be concluded there and then, then its best to do so. Over 99% of people who receive the paperwork, book the villa; whereas only about 50% of clients who are given options, end up booking.
Important note in general, one should not offer a discount on a villa unless asked.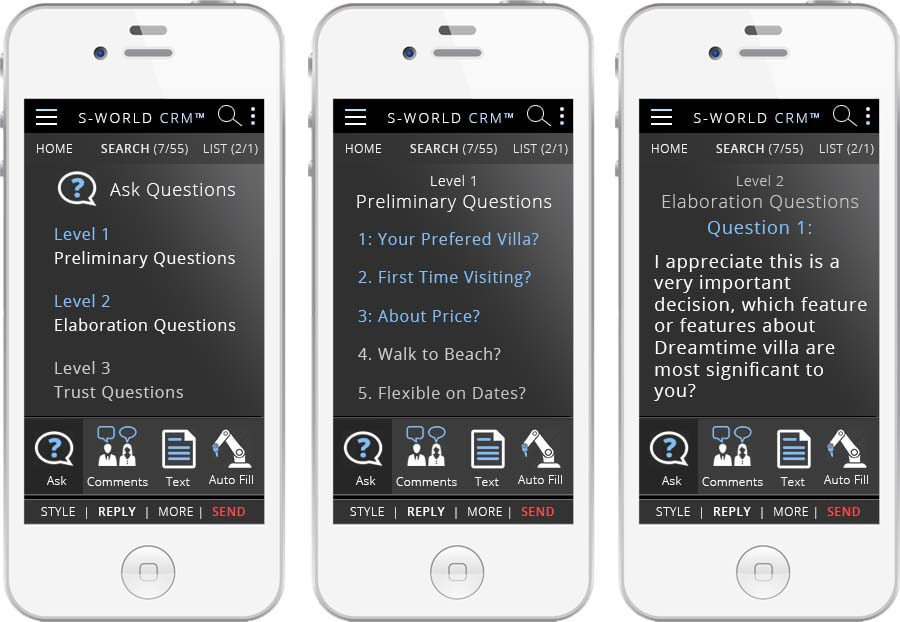 Above, we see the questions presented on mobile so an agent can create a sophisticated email in seconds, and / or the questions can be presented to the client when they entre the client suite.
There are 2 distinct advantages to the above that go beyond the advantages to the sales process and buyer's mindset presented by Hoffeld; one is that by using this system, the agents will themselves get better at asking questions and can add their own to the system, and will become adept at asking them and so will be able to deliver this kind of pitch on the phone without the need for prompting.
The second advantage is that during the enquiry process, after the enquiry form is complete, we can direct the client to the 'more info – client suite' page and ask them to fill out such questions, which can lead the client to level 2 questions automatically. And thereafter, lead to a small selection of villas that are most appropriate for them.
Lastly, from David Hoffeld and 'The Science of Selling':
"Whether you are trying to inspire someone to embrace new ideas, or sell them a product or service, the insights derived from meaningful questions are an essential part of influence. By embracing the scientifically validated model of 1st, 2nd & 3rd level questions; you will be equipped to ask questions that are aligned with how the brain instinctively reveals information. This will guide you in understanding a full and relevant understanding of your potential customers and will enable you to adapt your sales presentation to address their needs. Sales people who ask effective questions thrive and likewise so do the organization they represent."
Chapter 5j. Compose Email and Send – Part 2
Next, we will see how this email looks. On the left, we see the icons that would show after clicking the 'Reply' text option at the bottom of the phone. The icons for this link are 'Ask,' which adds questions to the email. The next icon 'comments' is more for replies and ongoing conversations.
The 'Text' icon creates the introduction and the conclusion which can write oneself, or one can click the 'Auto Fill' icon to choose a prewritten script. The first script you see will be the Ai choice that would be sent by auto pilot. Clicking the Auto Fill button will scroll through different text options.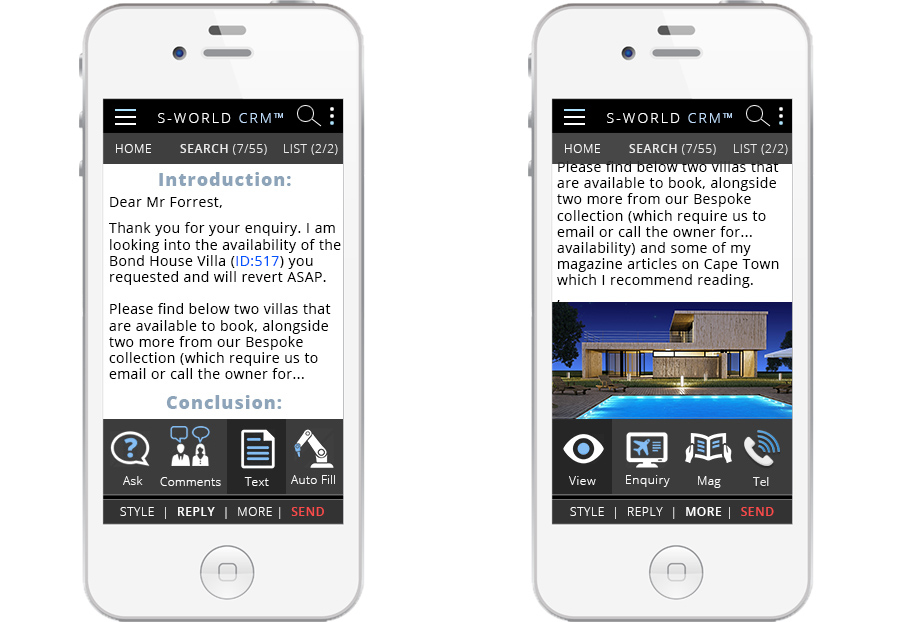 Lastly, on the right, we get to view the email, but only how it will look via the weblink that is created by the S-Web CDS, which will feature the client's name; so, for instance, www.VillaSecrets.com/Mr-Forrest.
Once one is happy with their email, one clicks send and then is advised to call the client. Or with the exception of the telephone call, one can just leave it to the Ai and a perfectly acceptable reply will be sent automatically.
Chapter 5k. How the email will look?
Dear Mr Forrest,
Thank you for your enquiry. I am looking into the availability of the Bond House Villa (ID:517) you requested and will revert ASAP.
Please find below two villas that are available to book, alongside two more from our bespoke collection (which require us to email or call the owner for availability) and some of my magazine articles on Cape Town, which I suggest you have a look at to see just how wonderful it is in Cape Town and Africa.
I have created a client suite webpage for you at www.VillaSecrets.com/Mr-Forrest.
Working within our client suite is a safe and sophisticated way to really tick all the boxes when it comes to the perfect customer journey.
Open my Client Suite
1. ID 6003 | $4,500 per night Crystal Ocean, Clifton, Cape Tow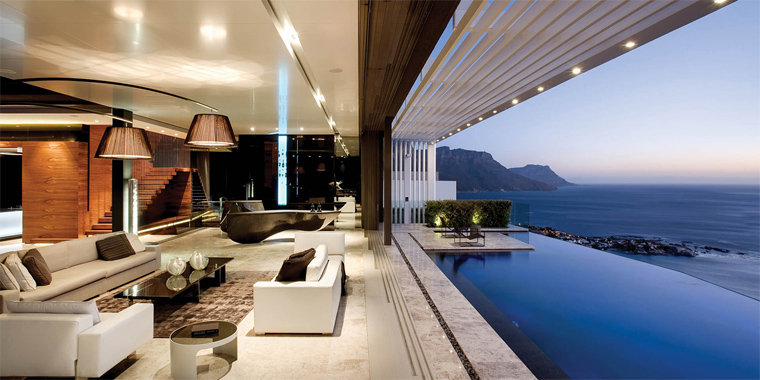 Crystal Ocean is a Cape Town luxury villa designed by highly respected architect Stefan Antoni. The private Clifton residence is situated along Nettleton Road, a most affluent suburb in the coastal area of South Africa. Its remarkable contemporary architecture as well as its amazing scenery is what makes this sea facing luxury villa an extraordinary place for rest and relaxation.
2. ID 6003 | $2,500 pn Aqualina Villa, Constantia, Cape Town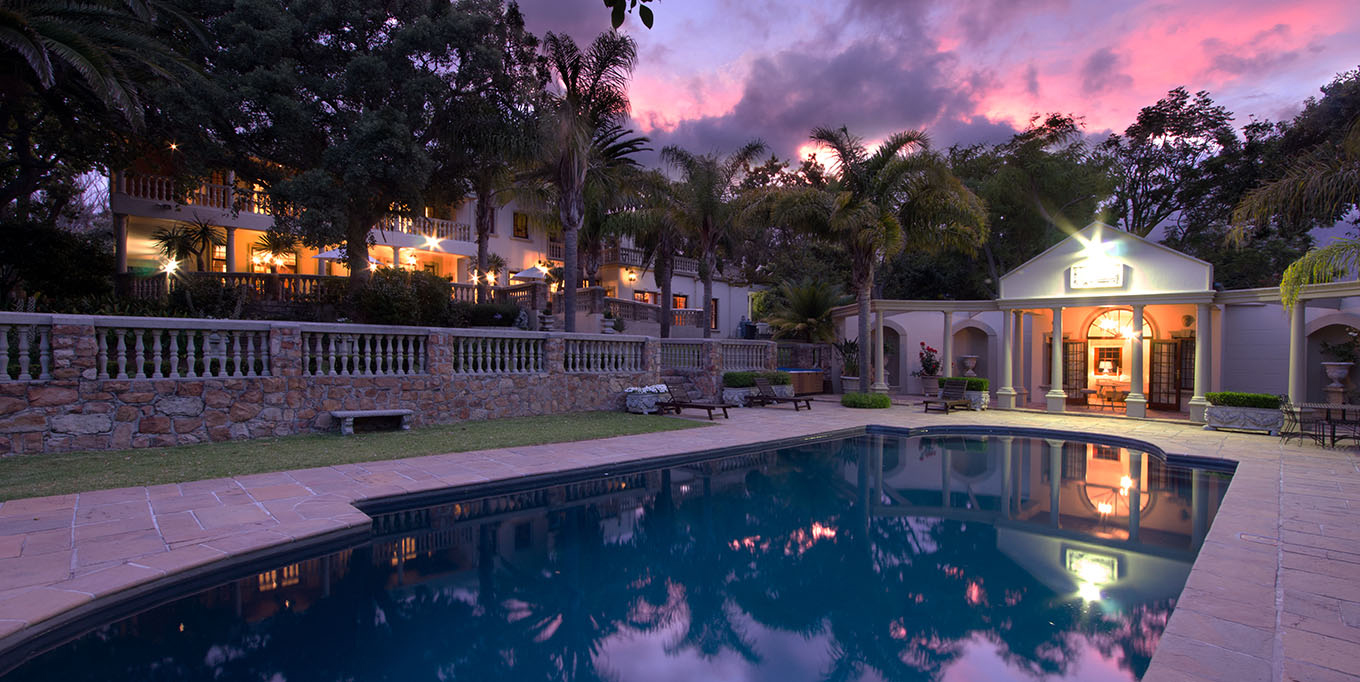 The Aqualina is a luxury villa set in the beautiful Constantia Valley in Cape Town. It is an exclusive and secluded estate with private gateways to the Tokai forest. The exquisite residence features colonial-style architecture with open living areas and classic furnishings. It is an escape in the Cape Winelands near the Constantia Wine Route with stunning mountain views.
3. ID 6020 | $6,000 pn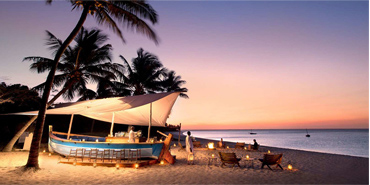 Benguerra Island, Mozambique
4. ID:6050 | $9750 pn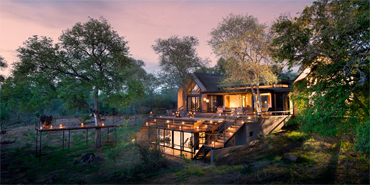 Lion Sands, South Africa
Villa Secrets Magazine Articles:

Clifton Beach 6 Exclusive use Table Mountain Camps Bay
Cape Town Safari Lodges Cape Town Cape Town
See all the options above and more in beautiful detail from your Client Suite: www.VillaSecrets.com/Mr-Forrest
Be assured, 'Villa Secrets' is a member of ASTA the American Society of Travel Agents and we are specialist at providing accommodation, service and concierge for discerning property buyer/investors. Our systems are light years ahead of the pack and our customer service is second to none.
Please can you assist me by answering the following…
1. Is this your first time visiting Cape Town?
2. Can you give me a little more guidance as to your budget?
3. Are you dates fixed or an approximation?
Best Regards
Nick Ray Ball
Nick@VillaSecrets.com
+ 44 1372 724 844
Open my Client Suite