S-Web CDS™ (Content Delivery System)
By Nick Ray Ball 7th June 2017

Welcome to the S-Web CDS, a truly unique, simple and 'so darn useful' system which one does not plug it into a website, it is the website!
Please start by watching this 54 second video https://youtu.be/5utbR9FWr-s and follow the steps below to see how 'darn' simple it is.
Please visit www.VillaSecrets.com
Then go to 'Destinations' (in the top menu) and choose the first option 'Best of Africa.'
Add a handful of villas to 'your favourites list' by clicking the plus symbols.
Click 'MY LIST' at the top right of the page.
From the new blue navigation menu under the logo click: 'Make my Webpage.'
Add your client's name, check the capture, and press: 'Publish my Webpage.'
In less than a minute you created a beautiful webpage which is catchy, as it contains your client's name www.villasecrets.com/Mr-Forrest. We are currently working on adding comments and the auto creation of beautiful email templates.
If you or an agent in your team were closing 1 in 4 sales, do you think a system like this would improve the closure rate to 1 in 3?
Consider the following: It's copy written and visually superior, which may improve client approval by 5%, the web link is superior to email for mobile to mobile conversations 20%, the client's name in the URL creates a sense of ownership 5%, and clients are much more likely to share with others 10%.
As all the info is neatly recorded there's less room for error or confusion 5%, as the agent took only a few minutes they have more time to deal with other clients 20%, future correspondence is quicker and more accurate 10%, and as agents can see the client's list adjustments in real time, (including alerts on same) he/she is better able to close the sale 10%.
This adds up to 65% (or 85% via mobile), but we work on low forecasts, so we say at the least this system will improve the chances of making a booking by 25%. Which is the same as changing the closure rate from one in four to one in three.
Part 2. S-Web CDS™ Magazine and Article CMS

Welcome to the "Villa Secrets Online Magazine"
Please watch this three-minute video presentation: https://youtu.be/X9-o3E4n2Dk
Whilst this idea can be traced back to 2009, S-Web's CDS™ 'Magazine pages' were forged as a response to web developers across the world, raising their game, creating increasing more attractive websites in 2015 and 2016. The only way to combat this was to raise our game substantially. One idea was to create individual villa pages that looked like homepages, and working in WordPress we created pages like this: Serenity Villa, Ulusaba Game Reserve and Cousine Private Island.
Whilst these pages were an improvement on any other travel website we could find and proved popular with guests and villa owners, each page took about three to four days to create, and as such they were expensive. So, we re-created the pages and a super-fast CMS 'Content Management System' for our copywriter to use. And in so doing, after she had written the copy and chosen the images, adding the content, and creating the complex HTML5 gallery slider took only a dozen or so minutes. See www.villasecrets.com/Villa/Africa-Villa=6004
Another area where other companies' websites improved in general was the creation of blogs and magazines. This was as or more time consuming than creating the villa pages, as one needed to get content from a variety of sources. So, we created the S-Web CDS ™ (Content Delivery System) and now an article that took 3 days to make takes less than a minute. See: https://youtu.be/X9-o3E4n2Dk. To see the article in the video, follow this link www.villasecrets.com/Magazine/6-Exclusive-use-Safari-Lodges-to-fly-for-By-Nick-Ray-Ball/6811.
Lastly, we can see all the article pages on www.villasecrets.com/Magazine. The trick to it is in how we call in the content for an article segment by adding the properties ID Number, or take it from 'My List.' And how we create our content is discrete 60 word segments. Now each Villa Secrets company can go blog and magazine mad, with each sales staff member having their own magazine featuring their own articles made in no time at all.
This improves the website and is the key foundation of a good content marketing strategy, and of course the sales staff's magazines make them seem more knowledgeable to clients.
Part 3. S-Web CDS™ – Complete System Design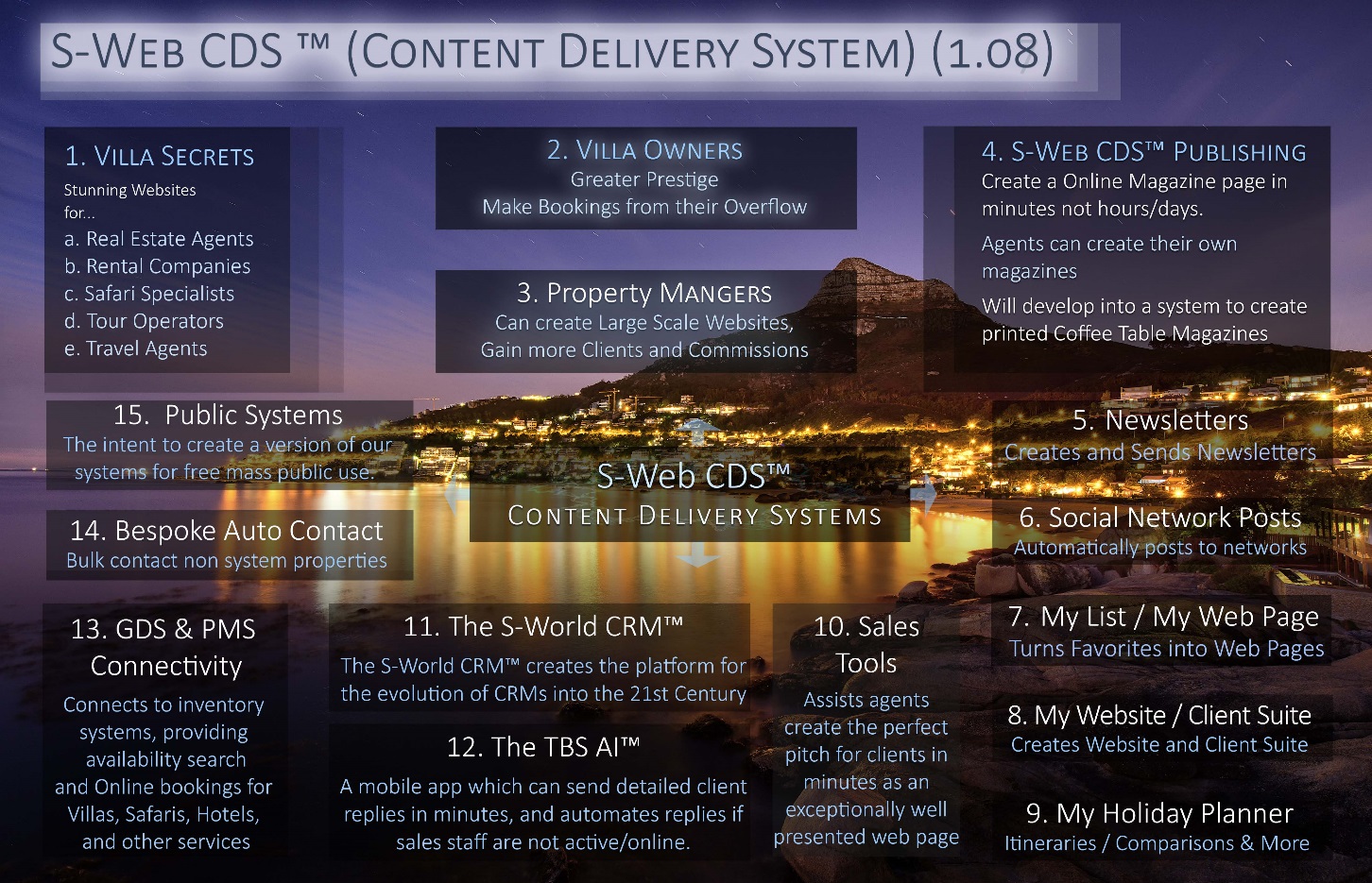 Above we see the broader System Design built upon the 'S-Web CDS' (Content Delivery System). Each of the 15 systems is a chapter to itself, but here is a bullet point summary…
1. Villa Secrets S-Web™ Integrated Website
Creating large-scale websites for the villa rental, real estate, safari and travel industries; similar to www.VillaSecrets.com but created on new domain such as www.VillasCafe.com or www.LuxuryVillas.LA, tailored and customised to the location and company preferences. These websites contain all the systems that have been developed and will include all systems in the development que. One does not plug the system into the websites, the systems are an integrated part of the websites. And whilst this may seem like a small detail it makes a big difference in how the systems can work together
2. Villa Owner S-Web™ Integrated Website
Creating custom websites for villa owners to make bookings from their overflow, when their villa is booked or unsuitable, they can book alternate villas.
3. Property Management S-Web™ Integrated Website
Creating websites to suit property managers, big or small.
4. S-Web CDS™ Publishing
Can create an online magazine article in under a minute, or a 10-page magazine in under 10 minutes, to be extended to printed magazine templates.
5. Newsletters Created Automatically
Turns each new article into a newsletter and allows staff to create their own newsletters to send to their clients on a monthly or bimonthly basis.
6. Social Network Auto Posting
In the development cue is the function to add all articles to many social networks.
7. My List / My Web Page
Allows clients to turn the favourite lists into attractive articles and web pages, which they can send to friends and partners. Creating a superior environment for the booking or sale processes, and encouraging upselling of other travel or property sale services.
8. My Website / My Client Suite
To be developed… will give the client the option to make their own website, which others in the group can contribute to, and a bouquet of useful options from concierge to financial reporting.
9. My Holiday Planner / My Itinerary
To be developed… adds options for safaris, resorts, hotels and flights and creates a super simple holiday planner and adds a super simple itinerary planner, plus comparison pricing.
10. S-Web CDS™ Sales Tools
In development… booking and sales agents can use our advanced search to add properties to their lists and convert them into client webpages and rich content emails in minutes. Agents can and adjust prices, commissions and add comments and use the webpages as a back-and-forth communication, partially useful for mobile communications. Can be used in villa rentals, sales, safaris & luxury travel.
11. The S-World CRM™ (Customer Relationship Management)
To be developed… adds a powerful CRM with sections tailored to different staff roles and different travel experiences. Unlike other CRMs, one does not plug this into the website, the CRM is the website, which creates the platform for the evolution of CRMs from glorified email monitoring to fully integrated systems. In addition, as we control the email server all emails received and sent can be added to the CRM without having to BCC (blind carbon copy) each sent email, as is necessary on Sales Force and most CRMs.
12. The S-World CRM-Ai App™
Currently in development… seen separately at http://network.villasecrets.com/CRM-Ai this system is presented as a mobile app which can send detailed client replies in minutes, and automates replies if sales staff are not active/ online.
13. The Villas Cloud™ (www.VillasCloud.com)
A separate S-World company 'The Villas Cloud' will create GDS, PMS and other inventory database connections; a dedicated super simple PMS (property management system) and room management systems for safaris and small luxury hotels. We have one PMS connection to MyBookingPal and will continue to add more as resources become available.
14. Bespoke Auto Contact and Deal
In development… this critical system will automatically email all bespoke properties (properties that are not on a database) that meet search criteria. Offering a simple 'yes' link which automatically updates the client's webpage, and emails the client. This system is particularly relevant to late in season villa bookings and all safari bookings
15. My S-Web (S-Web CDS™ CRM-Ai™ & TBS™ Public Systems)
Moving on from the travel industry, we see intent to create a version of our systems for mass public use, and are preparing to approach select Silicon Valley companies are partners in this endeavour. We make income from sales made via the websites.
Part 4. S-Web CDS™ For Real Estate Companies

We have heard how the S-Web CDS and MyList/MyWebsite will win customers over, so now imagine what it can do for real estate clients.
Let us imagine that a deal has been done with a leading real estate company and we have added their properties for sale over $2 million on Villa Secrets. This is added to by properties gained via the mandates acquired by the other Villa Secrets companies, plus 'open mandate' villas, which collectively create a significant portfolio.
Next we add a client, which could have come from the internet, a walk in, or any other method. In all cases, it is likely that the agent will at some point send the client an email. If the agent uses S-Web, this email will take only a few minutes to make, and is superior to whatever email would have been written and at the top it contains the personalised client link: www.mywebsite.com/mycleint/their-list. As before the client will receive a beautifully presented webpage, in magazine format that looks a million dollars via mobile.
On receiving their email, the client can reorder the villas and make different lists and create the option for their partner, boss, sub agent or anyone involved in the buying process to get involved and if they wish would create their own lists. This very process focusses the client and other decision makers on our real estate agents company and portfolio.
This is already a useful bit of kit; however, in addition, we shall provide the client with a great deal of data and statistics from a 'construction watch,' that pinpoints ongoing construction and locations that could be adversely affected in the future, to lists of schools and universities and various raking data. Plus, hundreds of other factors that are important to home buyers.
Now think of another example, this time a client has emailed an enquiry from abroad, but as the client is not available to visit the villa, it is not as good a lead as someone who can visit the home. In this scenario, one is not only competing with other estate agents in the local area but is potentially competing against estate agents all over the world. However, with the S-Web TBS™ and the -World CRM-Ai™, the agent only needs to spend a few minutes and will have replied in a way that looks very well considered. But more than this, the estate agent can simply use the CRM-Ai™ to also send travel options, not only increasing the likelihood of bringing the client to their location in the first place, but also making a good residual income from the travel arrangements. And of course, if our real estate partner has arranged the travel, its more likely that the client will not shop around for other estate agents when they arrive.
Part 5. S-World CRM-Ai ™ Villa Rentals Assisted Ai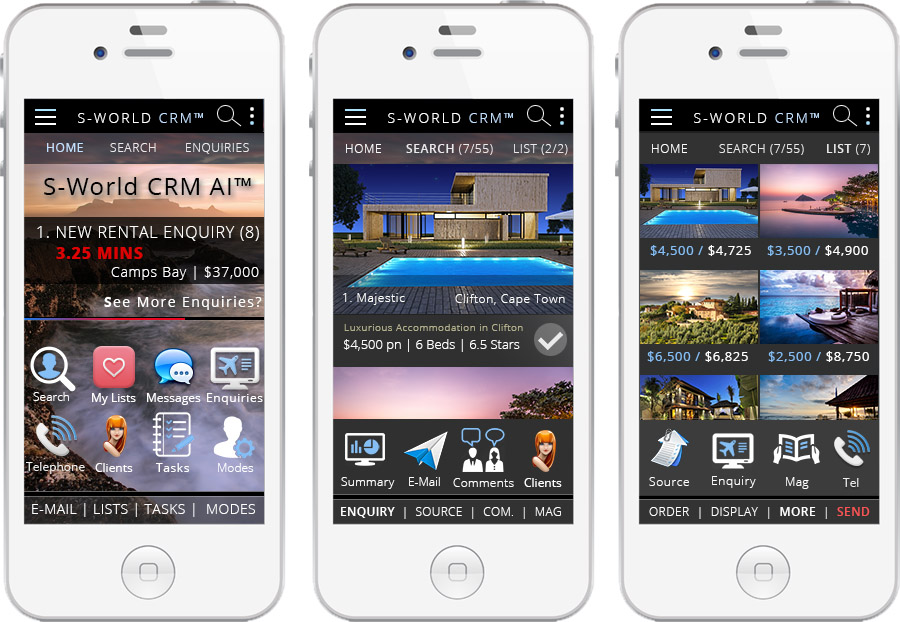 This system is in development and is described in greater detail at http://network.villasecrets.com/CRM-Ai. Whilst this system may look complex, most of the work for the functionality had been completed, and as such given eight weeks solid work without interruptions, we can create this App on desktop and on mobile.
One purpose of this system is to reassure real estate and other partners that the jump to successful rentals and travel serves is now a well-considered step not a leap, and to present the system as a property sales tool, as well as a rentals and travel services tool
In brief, this is a system to assist bookings or sales agents to make superior replies to enquiries in far less time, or if an agent is not available to reply, the Ai kicks in and replies to clients in a way that looks like a human sent it. From the enquiry data received the Ai automatically creates a reply, depending on variables such as if the villa requested is available, and are there any agents available to reply. In this example, we are working on the principle that the agent is not in the office, they are either out inspecting properties or out of work hours.
In either case, the objective is to inform agents that a new important enquiry has arrived, and from the left phone we see a timer at 3.25 minutes. This is a countdown, if no agent responds, the reply will be sent by the Ai. If the agent does pick up, their task is simply to adjust the order of the villas presented into the order they prefer and client send. It's as simple as that.